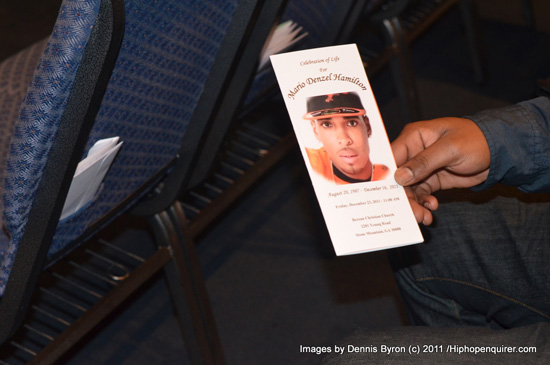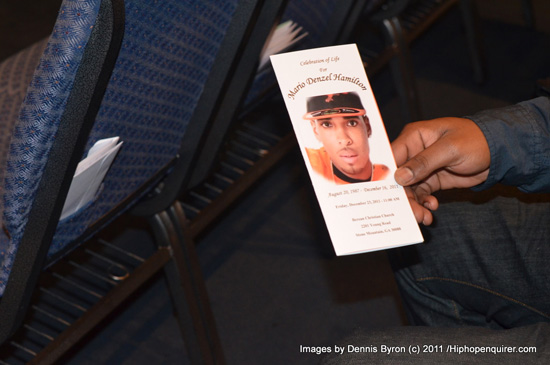 To the rap world he was just starting to break into, he was known as Slim Dunkin. But to the close friends and family members who attended his funeral service at Berean Christian Church in Stone Mountain, Georgia (near Atlanta) on Friday (Dec 23), he was simply "Mario."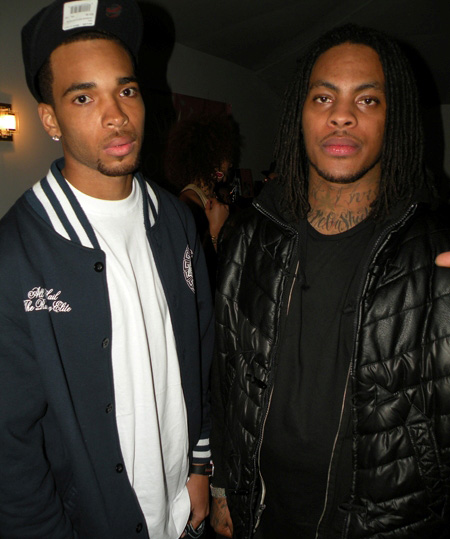 Mario "Slim Dunkin" Hamilton was laid to rest in a touching, spiritual service that included biblical readings from the books of Isaiah and John, a prayer, a gospel solo, tributes from several individuals including his brother Marcus, a video presentation, a selection from the church's choir, and to top it all off, a "message of Christian hope" from the church's pastor, Rev. Kerwin B. Lee.
Rappers Gucci Mane, Waka Flocka Flame, Travis Porter and Yung Chris were just a few of the notable names who showed up to pay their last respects to their fallen friend.
Hip-Hop Enquirer attended the service, and snapped a few emotional photos and captured video from inside the church.
At the beginning of the video is footage from after the funeral, where Slim's mother Janet Hamilton made a plea to her son's killer to come forward and turn himself in.
Mario Denzel Hamilton, also known as "Slim Dunkin," was shot and killed on Friday, December 16th 2011 inside an Atlanta recording studio. The rapper's shooting death was reportedly over a stolen piece of candy.
"To the person who killed my son, please turn yourself in, for the sake of our family," Ms. Hamilton said after his funeral, fighting back tears.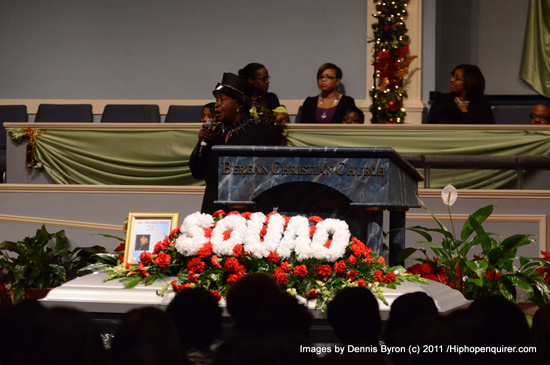 According to Access Atlanta, noticeably absent from the funeral program was any reference to "Slim Dunkin," or the rap music he was pursuing to make a name for himself, except for the flower spread on top of his coffin that had the words "Squad" spelled out with white flowers, in reference to the "Brick Squad" rap crew Dunkin was a part of, along with Waka Flocka Flame and several others.
The program was also nearly void of any stage names from the rappers who were a part of the ceremony.
It listed one of the honorary pall bearers as "Juaquin Malphurs" (Waka Flocka Flame), though it did refer to him as "Waka" in a special acknowledgement at the end. He, along with Gucci Mane, had reportedly helped foot the bill for the cost of the funeral.
In addition to talking about his love of basketball, and how he played with a semi-pro football team in Atlanta, the program also gave a detailed account of Mario Denzel Hamilton's life, including growing up in Detroit and New Jersey before he moved to Atlanta.
After the funeral, the silver casket carrying Slim Dunkin's body traveled through the slain rapper's old neighborhood (by means of a horse-drawn carriage) before he was buried at the Hillandale Memorial Gardens in Lithonia, Georgia, according to Willie A. Watkins Funeral Home, who handled all of Slim's funeral arrangements.
Look below for photos from the service, courtesy of Hip-Hop Enquirer:
[Access Atlanta, Photos & Video: Hip-Hop Enquirer]
Be the first to receive breaking news alerts and more stories like this by subscribing to our mailing list.