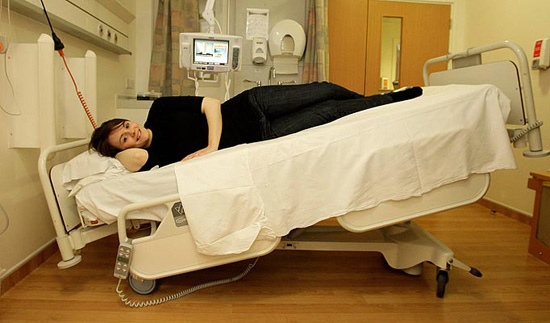 A British woman who suffers from a rare condition that made her have multiple miscarriages finally went through a successful pregnancy, and gave birth to a healthy baby girl!
But only after doctors told her that she basically had to lie in a hospital bed upside down for three months…..because her baby was about to "fall out." (Huh?)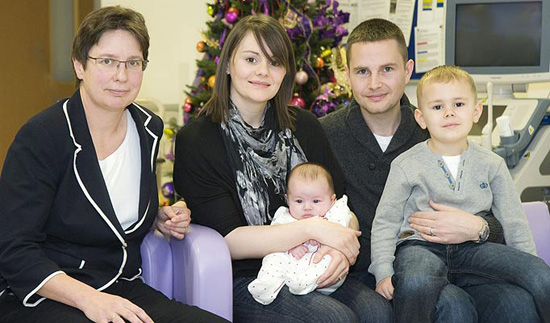 Donna Kelly, 29, was told five months into her pregnancy that her baby was just an inch from the top of her cervix and at risk of "falling out".

So doctors made her lie in a hospital bed tilted at 45 degrees to reduce the pressure.

She had to stay there 24 hours a day, getting up only to go to the loo. Donna, who later gave birth to baby Amelia, said of the bed: "It made me feel sick at first, and I had a massive 'head rush'. But after a couple of days my body adjusted and I got used to it.

"I propped myself up with pillows and the barrier round the bed kept me from falling out. I had to roll onto my side to eat, but I'd always have a dead arm by the end of the meal."

Donna, of Coventry, has suffered from a weak cervix since having son Joshua, now four. She suffered two miscarriages at 19 and 23 weeks. During her latest pregnancy she spent ten weeks at University Hospital in Coventry under the care of Professor Siobhan Quenby, one of the world's leading experts in recurrent miscarriages.

Ex-gynaecology nurse Donna, who lives in the city with Joshua and hubby Mark, 32, said: "Mark and I crossed off each day on a calendar. The way I saw it, one day more in bed hopefully meant one day less in special care for the baby if she arrived too prematurely."

Amelia arrived six weeks early by emergency caesarean, weighing 4lbs 15oz. She spent two weeks in an incubator before going home.

Donna said: "I'm thrilled to have Amelia. But there will always be a place in my heart for the babies I never knew."

[The Sun]
Sounds like this woman went through A LOT to have a child!
We hope that instead of growing up to be some disrespectful, unappreciative little brat (like most kids today) … this little girl grows up to appreciate her mother for spending a quarter of a year upside down in a hospital bed.
If that's not love, then we don't know what is!
Be the first to receive breaking news alerts and more stories like this by subscribing to our mailing list.