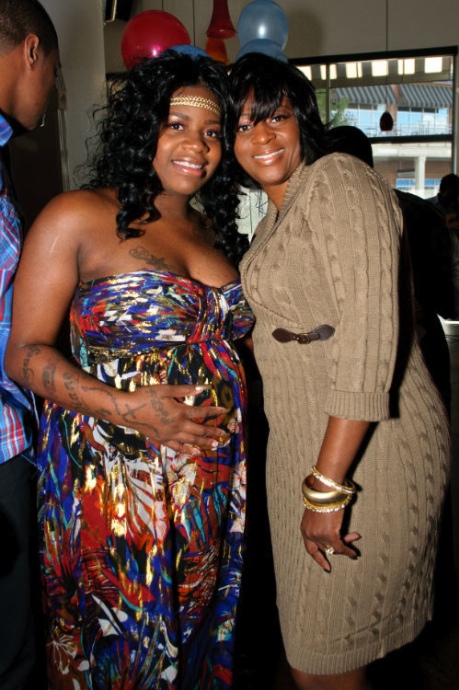 It's a boy for R&B singer Fantasia!
Looks like Christmas came a little early for Fantasia Barrino and her family, because according to confirmed reports, the "American Idol" season 3 winner gave birth to a baby boy named Dallas Zavier Barrino Tuesday at Presbyterian Hospital in North Carolina.
Dallas, who is the younger brother to Fantasia's 10-year-old daughter Zion, weighed in at 7 lbs, 9 oz and was 21 inches long.
"I feel so blessed that my son Dallas Xavier was born healthy, and is a wonderful new addition to our family. I thank all my fans for their well wishes and continued support," Fantasia said in a statement.
Fantasia first shared the news of her pregnancy back in August at a charity concert in Florida.
"You are the first persons that I share this news with," the singer told the crowd. "And I share this with you because I can relate to you. And for a while I walked around figuring out what will they say and what will they think about me. But now I tell you I don't live my life for folk."
A year before that announcement, the R&B singer admitted that she was having an affair with a married man from Charlotte, NC named Antwaun Cook. Around that time she had also overdosed in an apparent suicide attempt, which kicked of a long year-and-a-half for 27-year-old Barrino, who initially denied knowing her boyfriend Antwaun was married.
In November 2010, the singer confessed in a court hearing to aborting a baby she had conceived with Cook around the time she tried to commit suicide.
According to court records, Barrino later testified in that she knew from the first day of her relationship with Cook that he was married and still living with his wife Paula.
Fast forward to a year later and now the "couple" are "proud parents" to a baby boy. (Umm … congrats, we guess?)
Just a couple of months back, in October, Fantasia had a baby shower attended by her family and close friends, including singers Kandi Burruss, Lil Mo and Anthony Hamilton, and S2S magazine publisher Jamie Foster Brown. The shower was reportedly held on the same day as Antwaun Cook and his estranged wife Paula's wedding anniversary.
Check out the pictures (via S2S Magazine) below:
Be the first to receive breaking news alerts and more stories like this by subscribing to our mailing list.