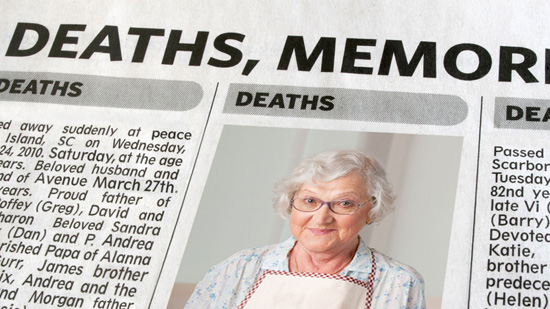 A pathetic excuse for a son was charged with disorderly conduct after he made one of the dumbest decisions a guy could make in life.
He faked his own mother's death by putting an obituary for her in the local newspaper so that he could get bereavement pay from his job. Too bad he got fired though, and will forever have to live with the guilt of not only lying about his own mother's death, but also taking a fake obituary out in the paper, just so that he could reap financial benefits from his job. (Dumbazz!)
Authorities say a 45-year-old Brookville, Pa., man took booking off work to a new level by submitting a fake obituary for his living mother to a local newspaper.

Scott Bennett sent an obit notice to The Jeffersonian Democrat to get paid bereavement time for his job at a local factory, the Brookville police chief told ABC News.

Bennett was fired from his job and charged with disorderly conduct, Police Chief Ken Dworek said. Relatives called The Jeffersonian Democrat newspaper in Brookville after the obit appeared to report Bennett's mother was alive and well and the woman herself then visited the news office, the Associated Press reported.

"One of the reasons we didn't file more serious charges was he has enough problems as it is," Dworek said. "He was very remorseful and upset."

Dworek said the man's mother was "rather upset with it all," though the police did not record a statement from her.

"In 46 years of police work this is the first time I've ever heard of this happening," Dworek said. "You think you've heard it all."

[ABC]
That's where Chief Dworek messed up, thinking he's heard it all. Just when you think you've heard it all, you really haven't heard the half of it. This world has gone completely bonkers!
It's one thing to lie about a non-existing family member, which would have been much smarter … but to lie about your own mother dying? That's just cruel, and unusual.
Be the first to receive breaking news alerts and more stories like this by subscribing to our mailing list.