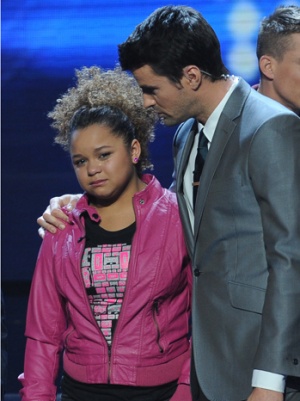 13-year-old "X Factor" contestant Rachel Crow was sent home last night after the judges' decision went to deadlock, and it was determined she had received the fewest number of public votes.
Read how it all went down below:
"X Factor" is no stranger to drama, but Thursday night's drawn-out elimination between 13-year-old Rachel Crow and aspiring Usher-to-be Marcus Canty was gut-wrenching. Ranked at the bottom two (with this being Canty's third week in a row), each contestant delivered — Canty singing "I'm Going Down" by Rose Royce, and Crow giving a deeply felt, deeply emotional performance of "I'd Rather Go Blind" by Etta James that seemed beyond her years.

But the drama started out like so: both LA Reid and Simon Cowell loyally stuck with their mentees, with Simon unsurprisingly being the most obnoxious about it. "You're going home Marcus," he dismissed. So then it was up to the ladies. Paula Abdul stuck with her girl and chose Crow, and, for a moment, it seemed almost certain that Crow would pass on through to the semi-finals.

But that's when the camera panned to a sobbing, seriously distraught Nicole Scherzinger. Cue hysteria. Cue stuttering. She couldn't make a decision. "I know how it feels and I adore both of you… I have to go to deadlock," Nicole said, even if that meant she voiced out loud that she was sending Crow home, to even out the voting. How does that make sense? Why was Rachel, a mere teenager with a ridiculously cherubic face, consoling Nicole over her decision?

So enter Deadlock, which takes the power out of the judges' control and hands it back to the original voters. It felt strange to move forward with a decision based on voting that had happened before the survival song performances, but so be it. A mystery hand named "John" gave host Steve Jones a piece of paper that revealed that Crow had gotten the least number of votes from Wednesday's performance, and that she would be going home.

Even Jones looked surprised. But then things got really messy. Crow fell to the ground and gave a death cry, then could be overheard telling her mother to "promise" her things would be alright. Simon and LA rushed onto stage, but Nicole held back at judges' table to sob into her hands even more, with Paula consoling her as if she had been the booted contestant. (When Nicole did dare to tread onstage, she was instantly booed).

It was all confusing and emotional and didn't make sense, but somehow, even though she got sent home, Rachel Crow emerged the winner of the night. When asked by Jones for her final thoughts, Crowe succinctly wrapped it up like so: "I just love you so much everybody for voting for me, even though you didn't."

"I hope this is not my ending, you know what, I know it's not."

[HuffPo]
Your thoughts?
Be the first to receive breaking news alerts and more stories like this by subscribing to our mailing list.