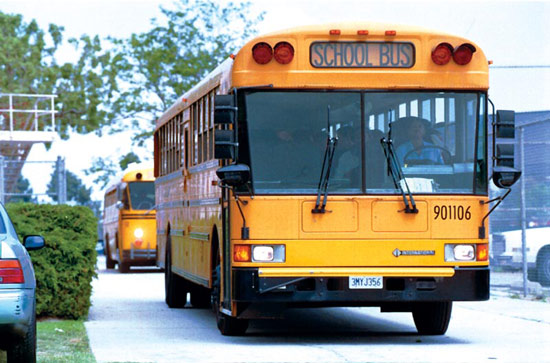 There's one key rule to being a passenger … always keep an eye on the driver!
A teenager has become a hero for thinking quickly on his feet and preventing a bus driver who fell asleep at the wheel from crashing.
17 year-old Emmanuel Williams along with 24 other students were headed home from school when he noticed the bus was swerving and missed an exit.
The 65-year-old driver had apparently nodded off and was no longer focused on the road. Without hesitation, Williams jumped up and awoke the driver before anything tragic could happen.
"I was looking at him and his eyes would close, and when we'd get to a turn, he'd look both ways, start driving again, and they would close more and more," Williams said. "And as soon as I see his head go down, and I see the bus go back to the freeway, I hop up, get to the front of the bus as fast as I can. I guess I just did it because it was right to do."
Once the driver was back alert and awake, he regained control of the bus.
In the days that followed the incident, Williams says he pondered over what could have happened if he wasn't paying attention. "Something would have happened if I didn't get up," he said. "I know that there would have been a big huge thing going on because he would have crashed and it would have been a whole lot more than what it is now."
Tacoma Public Schools District says the driver had a clean driving record with no accidents during eight years.
"Certainly safety is very important to us and to the families involved, and we want to get to the bottom of it and make sure nothing like this happens again," said Dan Voelpel of Tacoma Public Schools. "It's unusual. It's not something we've dealt with before."
The driver has been placed on administrative leave while the incident is under investigation.
Be the first to receive breaking news alerts and more stories like this by subscribing to our mailing list.