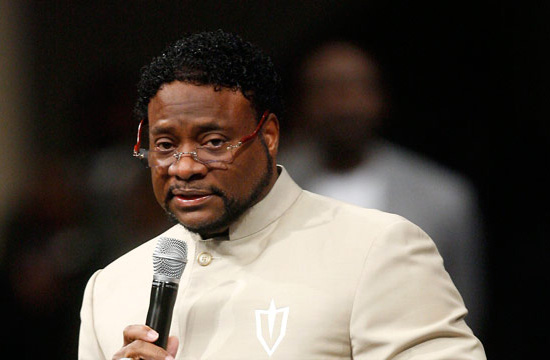 Bishop Eddie Long announced to a packed house during his weekly sermon on Sunday morning that he will be "taking time off" from his church, just days after his wife filed for divorce.
Long, who heads New Birth Missionary Baptist Church in Atlanta, one of the largest megachurches in the country, said that he will be using that time off to heal his family.
"I'm going to take a little time off to work with my family," Long said Sunday morning at the televised service, according to CNN. "I do want you to know that this is, for me and my family, especially with me, one of the most difficult times and things I've had to face, and only because my strength, other than God, is in Miss Vanessa," he said to rousing applause.
"And I want you to rest assured that I love her and she loves me. In all the things that I've ever had to deal with and being pastor, my rock has been to be able to come home to a virtuous woman who always had peace in my house. We're going (to) work it out," he said.
Long's wife Vanessa filed for divorce Thursday afternoon (Dec 1), and released a statement Friday morning in an e-mail bearing the New Birth logo that she had changed her mind and wanted to withdraw the divorce petition.
By the end Friday, Mrs. Long had changed her mind once again, and announced that the divorce was back on.
"Mrs. Long continues to hope that this matter may be resolved expeditiously, harmoniously and fairly; however, she has determined that dismissal of her divorce petition is not appropriate at this time," Vanessa Long's attorney said in a prepared statement issued late Friday.
Eddie Long, who is one of the country's most well-known megachurch pastors, has been at the center of controversy for over a year now after several young men accused the New Birth pastor of sexually abusing them last September.
Former New Birth members Anthony Flagg, Spencer LeGrande, Jamal Parris and Maurice Robinson alleged that Long used his influence and expensive trips, gifts and jobs to coerce them into having sex with him on multiple occasions.
Long settled the cases earlier this year, but has never admitted to any wrongdoing. Details of the settlement were never disclosed, though it's rumored that each of the young men received at least $1 million.
After Long announced that he would be taking a leave of absence from his church, New Birth issued a statement emphasizing that Long would not be stepping down.
"Rumors that Bishop Eddie L. Long has stepped down as senior pastor of New Birth Missionary Baptist Church are completely false," the church's statement read. "As Bishop Long stated in his earlier comments, 'Vanessa and I are working together in seeking God's will in our current circumstances.' As any loving and committed husband would do, Bishop Long will take some time to focus on his family but he will continue to be the senior pastor of New Birth."
Bishop Eddie Long was appointed pastor of New Birth in 1987 when the church only had 300 members. By 1997, membership for New Birth had exceeded to roughly 18,000, later peaking at 25,000. The church now sits on 25 acres of land, and is housed in a $50 million, 10,000 seat cathedral.
Ever since the sexual coercion lawsuits were filed last year, membership and attendance at the church has naturally declined.
"It's pretty clear from the payouts in the case, declining membership and divorce proceedings that something is wrong," said Anthea Butler, a religious professor at the University of Pennsylvania who has been observing the situation for some time. "Clearly it has shaken things up."
Be the first to receive breaking news alerts and more stories like this by subscribing to our mailing list.