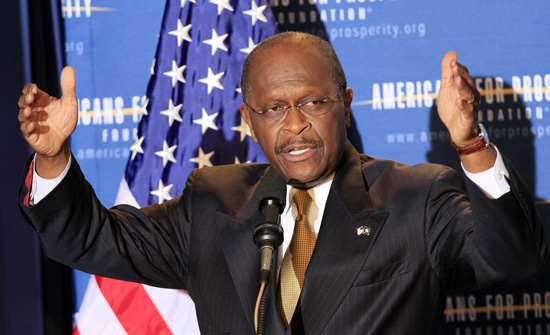 GOP candidate Herman Cain announced today that he will be "suspending" his Presidential campaign for the upcoming 2012 election. (In other words, Cain is dropping out of the race, effective immediately!)
The Republican hopeful made the expected announcement after several women came forward with allegations of an extramarital affair and sexual harassment charges against Cain, who continues to deny the accusations.
"Becoming president was Plan A. Before you get discouraged, today I want to describe Plan B," Cain said in a press conference early Saturday. "As of today, with a lot of prayer and soul searching, I am suspending my presidential campaign because of the continued distraction, the continued hurt caused on me and my family, not because I'm not a fighter."
He continued: "My wife, my family and I, we know that those false and unproven allegations are untrue so one of the first declarations that I want to make to you today is that I am at peace with my god. I am at peace with my wife and she is at peace with me.
"The pundits would like for me to shut up, drop out and go away but as my grandmother who lived to be 104 years old used to say, 'When somebody was dead wrong, bless their little hearts,'" he said. "I am not going to be silenced and I am not going away."
Your thoughts?
Be the first to receive breaking news alerts and more stories like this by subscribing to our mailing list.