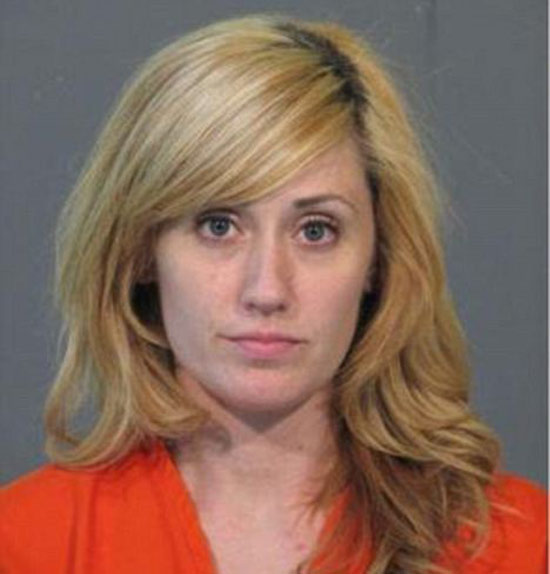 Hide your kids!!!

Bible school camp is no longer a safe environment for our children…..well at least the one the lady pictured here worked at!
A Bible school teacher is facing up to five years in jail after being accused of having sex with a 13-year-old boy.

Heather Daughdrill, 28, of Westlake, Louisiana, is alleged to have begun the affair with the teen after meeting him at a summer Bible school camp.

She is alleged to have checked the boy out of school without parental permission and taken him to her home where they had sex.

Investigators discovered several sexually explicit text messages that had been sent by Daughdrill to the boy.

The alleged relationship went on from June until October of this year.

Daughdrill, now out on bond, would allegedly pick the boy up from school without his parents knowledge for their liaisons

Police began investigating Daughdrill after receiving a tip off earlier this month that she was involved in an inappropriate relationship with the underage boy.

They discovered Daughdrill had met the teenager at a summer Bible school camp where she was one of the adult teachers.

Daughdrill was first booked into the Calcasieu Correctional Center on four counts of carnal knowledge of a juvenile, eight counts of sexual battery, three counts of 2nd degree kidnapping, contributing to the delinquency of a juvenile and indecent behaviour with a juvenile.

She was released from Calcasieu Parish on $47,000 bond and then booked into Beauregard Parish Jail on 3 counts of 2nd-degree kidnapping and carnal knowledge of a child.

Her bond in Beauregard Parish has been set at $200,000.
We still don't get what gives these grown azz women such an urge to sleep with children and risk everything they have. Are adult men that bad???
Be the first to receive breaking news alerts and more stories like this by subscribing to our mailing list.