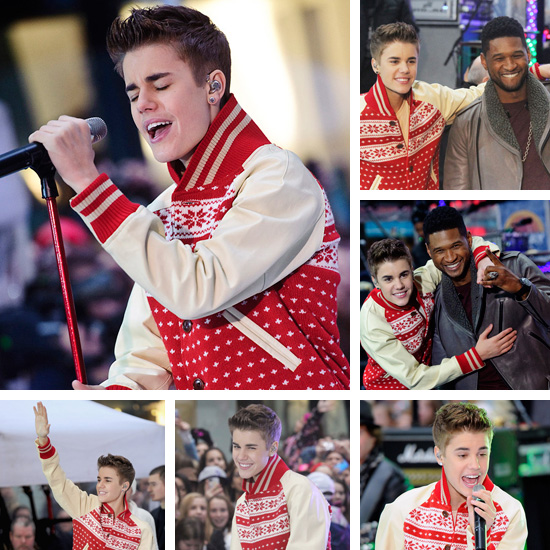 Justin Bieber accidentally flubbed the lyrics to the popular Christmas tune "Santa Clause is Coming to Town" while performing on the "Today" show this week.
The young Pop star, joined by his mentor Usher, made an appearance on NBC's "Today" Wednesday morning (Nov 23) and performed a few songs from his newly released Christmas album.
During his performance of "Santa Clause is Coming to Town," the 17-year-old entertainer blanked out midway through and forgot the lyrics to the song, simply simply repeating the lines "He's making a list" and "He sees you when you're sleeping" to fill in the gaps.
Instead of singing "He sees you when you're sleeping," the Biebz accidentally sang "He's making a list." Then, when he was supposed to say "You better watch out," once again, he said "He's making a list."
At one point, Bieber, dressed in a festive red and cream snow flake-patterned sweater worth $1,650 and jeans that sagged below his waistline, just let the backing track guide him through some of the song, leaving a few moments of awkward silence. (Hey … at least we know he's wasn't lip-synching!)
Even though he messed up a few lines during the performance, the star refused to let the mistake stop the show and continued on with his performance unfazed. Honestly, if you're not really paying attention, you won't even notice the few blips.
The song, among a few others he performed, like "Mistletoe" and "The Christmas Song: Chestnuts Roasting on an Open Fire" (featuring Usher), appear on Bieber's first Christmas album "Under the Mistletoe," which the Today show noted is the first album from a male recording artist to debut at #1 on the Billboard 200 albums chart.
Watch Justin Bieber's full "Today" Show appearance below:
Setlist:
Never Say Never (Video #1 – 01:40)
The Christmas Song: Chestnuts Roasting on an Open Fire F/ Usher (Video #1 – 10:00)
Under the Mistletoe (Video #2 – Beginning)
Santa Clause is Coming to Town (Video #2 – 04:40)