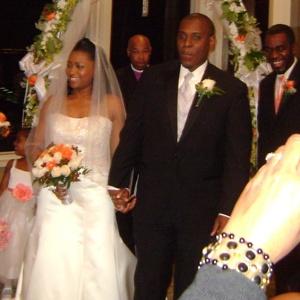 A New York man killed himself early Sunday morning (Nov 20) by jumping into a river just hours after marrying his high school sweetheart.
28-year-old Fernando Brazier took the fatal leap after leaving a suicide note telling his new wife where his body could be found at the front desk of the hotel where they were spending their first night together as a married couple.
The groom's sister Shawna Weeks told the New York Post:
"He would tell me that Trudy was a good person [but] he didn't want to marry her; he was feeling like he was pressured. He said [in the suicide note] he couldn't take it anymore, and to take care of the kids. He left his ring in the envelope."
Fernando Brazier and 26-year-old Trudian Hay had been together since they were teenagers and have two daughters together, aged 5 and 2.
Brazier, who was studying to be a nurse and worked as a security guard at night, had divorced parents, and wanted to get married so that his daughters could have a stable home.
Brazier had reportedly been suffering from depression for the past few months and he and Hay (his fiancee at the time) were seeking counseling.
But relatives said they saw no signs of distress as the groom happily danced with his wife and daughters during the wedding reception, held at the Riverview Hastings-on-Hudson in New York City, where they also had their wedding.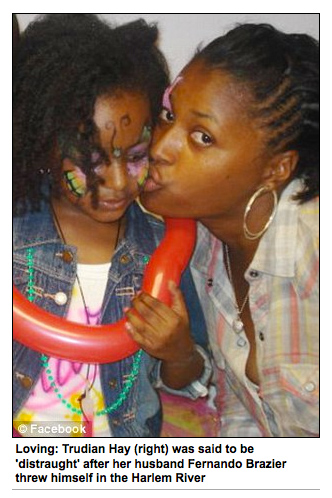 According to The Post, the morning after the wedding, Brazier told his wife that he was "going out for a walk," something he regularly does. However, this time he didn't come back.
After a few hours, his wife called down to the front desk, and was told by a receptionist that he had left a note before running off in a taxi.
Hotel staff say they saw him leave at around 9 am Sunday morning before climbing into a taxi.
After a missing person alert was issued by the wife once she read the note her husband left for her at the Radisson Hotel's front desk, police discovered his body at the bottom of the Harlem river near Clemente State Park around 3pm, according to police sources.
There are no signs of foul play, and the coroner hasn't confirmed a cause of death yet.
The bride was reported to be "too distraught to speak after their long-planned wedding weekend went tragically wrong." (Ya think?)
"She's not doing good, she's not doing good at all," her mom Beverly, said. "We have no idea why [Fernando] did what he did."
So much for that "stable" home Fernando so badly wanted for his young daughters.
[NYP, Daily Mail]
Be the first to receive breaking news alerts and more stories like this by subscribing to our mailing list.