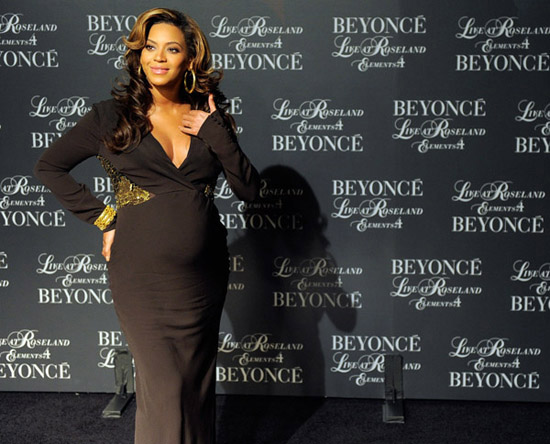 Beyoncé knows how crazy some (not all) of her stans fans can get sometimes, and she says she wants them to "tone it down" a little.
The pregnant superstar hosted a special screening of her new DVD, "Live at Roseland: The Elements of 4," at the Paris Theater in New York City Sunday night (Nov 20).
The 30-year-old singer, who is expecting her first child with her rapper husband Jay-Z, the star wore a long black gown with gold trimming, and was joined by her mother Tina Knowles, assistant/cousin Angie and others at the theater where fans were served light refreshments.
During the special Q&A session, Beyonce revealed that she did the DVD because she knew that she wouldn't be able to perform for a while, and she wanted something just for her fans:
"Oh, my God, First of all, I see all of my super fans in the audience when I'm in the audience performing because they're doing the choreography harder than me. Some of the fans were like 'B, you better put me in this DVD!' So I made sure I did.

"It's really a special bond and it just makes me so proud because sometimes I try not to because it will drive you crazy but if I run across something on the internet my fans are like… Sometimes I'm like 'tone it down' but it's just really beautiful and I, honestly from the bottom of my heart, give everything that I can give. I'm always thinking about all of the fans."
Beyoncé admitted that she was really nervous about the press suspecting that she was pregnant during the 4-day concert series. "The whole time I was definitely thinking everyone knows and everyone can see," she said.
She also explained how being pregnant made performing a little more difficult. "When you're pregnant, it's a little bit harder to breathe, so it was hard doing all the choreography and singing at the same time," Beyoncé said.
In addition to the DVD set being a great memento for fans, Beyoncé hopes that her child can also enjoy the nostalgic nature of it. "[I hope he or she will say] I can't believe I was in that belly!" she joked.
Beyoncé's all-new "Live at Roseland" DVD is currently available for sale exclusively at Walmart.
Be the first to receive breaking news alerts and more stories like this by subscribing to our mailing list.