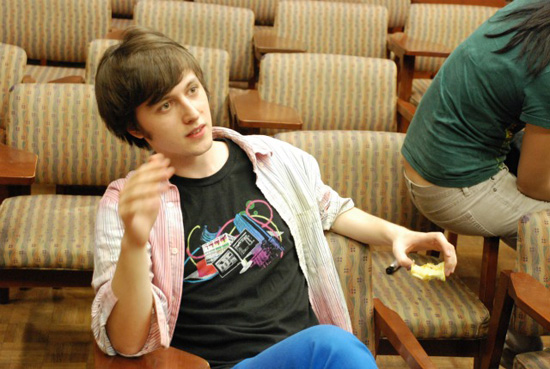 Ilya Zhitomirskiy, the co-founder of up and coming social networking site Diaspora, was found dead at his home in San Francisco over the weekend.
Police confirmed Monday that the young entrepreneur's death was a suicide. "In this case it appears to be a suicide," Officer Alvie Esparza told CNN. "However, the medical examiner's office will make the final decision."
New reports suggest that Zhitomirskiy's mother hadn't heard from her son in several days. So she contacted his roommate, who then broke down his bedroom door to find Zhitomirskiy dead. He was 22 years old.
"Ilya was a great guy," said Peter Schurman, a spokesman for Diaspora. "He was a visionary, he was co-founder of a company that hopes to bring a better social networking experience and we are all very sad he is gone. It is a huge loss for all of us, including his family,"
CNN Reported:
Diaspora — positioned as an open-source, decentralized alternative to Facebook — came into public view last year. Zhitomirskiy and three other New York University students announced the project on April 24, 2010, seeking donations through microfunding site Kickstarter.

The founders surpassed their $10,000 fundraising goal in 12 days, and they raised a total of $200,000 from 6,500 donors in 39 days — including Facebook CEO Mark Zuckerberg.

The Diaspora announcement was well-timed, as it launched while Facebook was dealing with bad press about its confusing privacy controls. Diaspora also raised money from high-profile venture capitalists including Fred Wilson.

Diaspora posted its source code in September 2010 and launched a commercial version of its network a few weeks later. But after that, the buzz began to fade.

A Diaspora blog post last month pleaded for more donations, but on October 19 the cofounders said "PayPal mysteriously and arbitrarily decided to freeze everyone's donations." PayPal later said it had released the funds.

Over the weekend, dozens of people commented on the news of Zhitomirskiy's death — first reported by TechCrunch — via a forum on startup incubator Y Combinator's site.

"Ilya was an incredible person," wrote one user. "His heart was truly driven by bringing about positive change in this world. Diaspora was only the beginning."