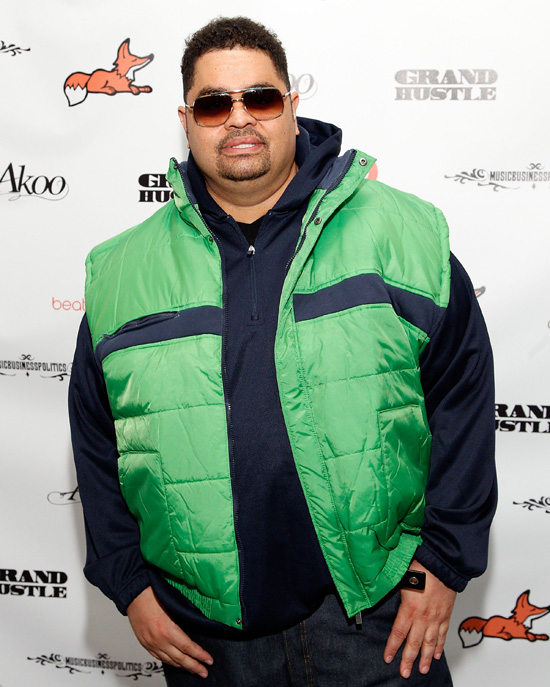 The day before Heavy D suddenly collapsed and died at the young age of 44, the rapper knew something was wrong with his health, so he went to the doctor for a check-up with "what appeared to be like flu-like symptoms," Ed Winter, Assistant Chief of the L.A. County Coroner's office said.
Heavy D, whose real name was Dwight Arrington Myers, had just come back from a trip to England. "He said he had a touch of pneumonia, maybe from traveling," his cousin Ruddy Phillips told The New York Daily News.
Myers had just returned home from a shopping trip when he started experiencing shortness of breath and collapsed in a hallway outside his condo building.
He was rushed to Cedars Sinai Medical Center in Los Angeles and died an hour and a half later, Lt. Mark Rosen of the Beverly Hills Police Department said.
"There doesn't appear to be any foul play. We believe it was medically related," Rosen said.
When officers first arrived at his home after a 911 call was made, Myers was conscious and talking, but having difficulty breathing.
An autopsy was performed last Wednesday, but investigators declined to release a preliminary cause of death until toxicology tests are performed. The tests could take up to six weeks to complete.
Dwight Arrington Myers, born in 1967 in Jamaica and raised in Mount Vernon, rose to fame in the 1990's as the front-man for the group "Heavy D and the Boyz."
Alongside his bandmates G-Whiz, Trouble T. Roy and Eddie F., Heavy D made Hip-Hop history with hit songs like "Now That We Found Love" and "Nuthin But Love."
He also is credited for rapping on the theme songs for "In Living Color" and "Mad TV," and was also featured on the song "Jam" with his good friend Michael Jackson.
Heavy D has also had featured acting roles on movies and TV shows like "The Tracy Morgan Show," "Boston Public," "Life," "The Cider House Rules" and most recently had a cameo in the new movie "Tower Heist," starring Eddie Murphy and Ben Stiller.
Heavy D last performed in October at the BET Awards and with LeToya Jackson at the Michael Jackson tribute concert in Wales, where he and the Late King of Pop's sister performed "Jam."
He leaves behind a 13-year-old daughter, whom he was extremely close with, the rapper's cousin Ruddy Phillips said.
"He was a really great dad. Everybody is wondering how she's going to take it now that he's gone. She loves her dad so much," Phillips said. "And his mother is taking it really hard. He's the third brother in the family to die. Everybody is stunned. No one can believe it. He was so young."
Funeral services for the late rapper will be held over a period of two days in his hometown of Mount Vernon, New York this coming Thursday and Friday.
A public viewing is scheduled for Thursday (Nov 17) from noon to 6 p.m., while a private service for family and close friends will follow the next day.
Be the first to receive breaking news alerts and more stories like this by subscribing to our mailing list.