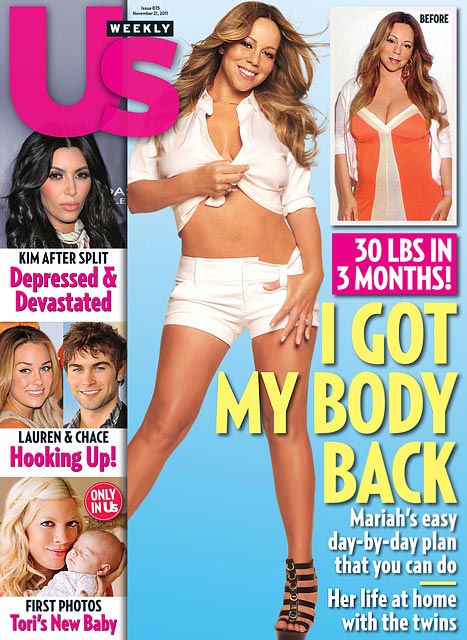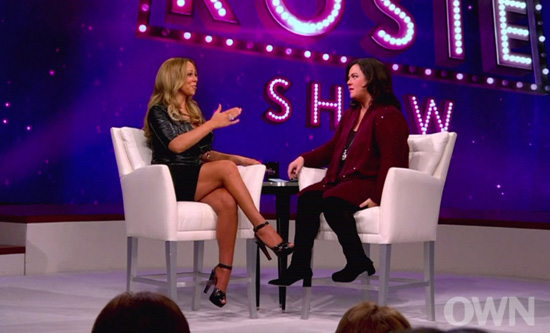 Mariah Carey is proud to show off her post-baby body (or post-babies, we should say) to the world!
The songstress, who gave birth to twins Moroccan and Monroe back in April, lost a staggering 70 pounds after embarking on the Jenny Craig diet plan, she revealed earlier this week during an appearance on OWN's "The Rosie Show."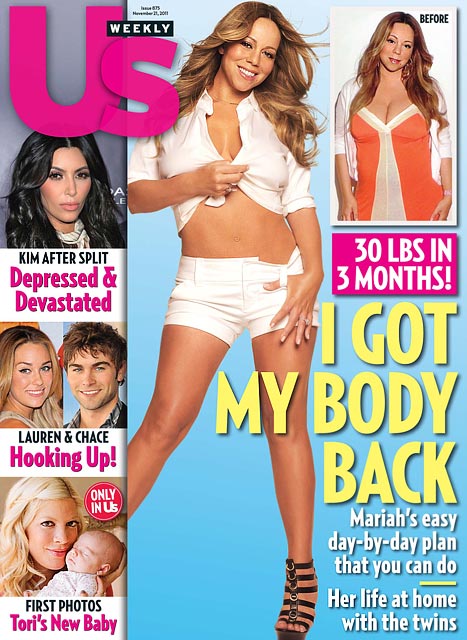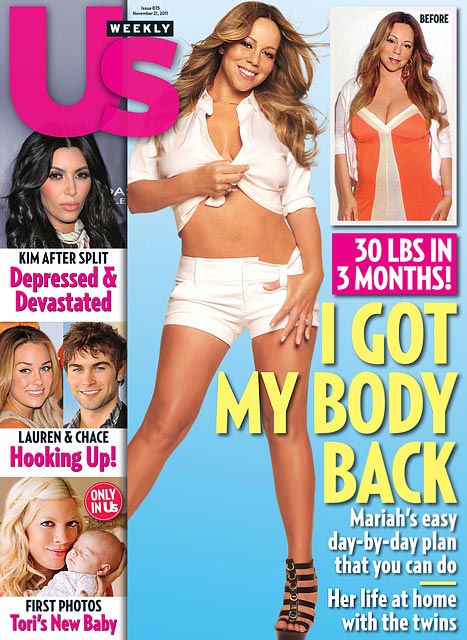 She is also featured on the cover of the latest issue of US Weekly Magazine, where she proclaims: "I Got My Body Back!" and she explains her easy day-to-day diet plan that helped her lose 30 pounds in just 3 months.
But it wasn't easy, explains Carey, who admits she was initially worried she would never be the same again after the pregnancy.
She told Rosie O'Donnell, "In the beginning, when I first had the babies, I had so much edema, water and swelling. Most pregnant women have that just in their feet. One day I was doing my thank-yous and I noticed it started rising up the leg, so I had edema. I didn't think I would ever be the same person."
Because she wasn't able to exercise after having a Caesarian section, Mariah says it was the Jenny Craig diet plan that helped her lose most of her weight.
"The first week, I lost 40 lbs of just water. It was just water, initially. When I started with the program, I lost at least 30 lbs of weight that needs to be lost," she explained.
The 42-year-old star also explained how she struggled throughout her pregnancy, and even had trouble on bed rest.
"I had a really tough pregnancy. I was supposed to be on bed rest, but it was so bad then even bed hurt. I learned a lot being pregnant, watching my body change," she said. "The whole point of this is not just like, 'Oh hey, look at me and my weight loss, I'm fantastic.' It's really healthy. Like I said, I learned it when I became helpless and felt so vulnerable like never before in my life."
"I learned a lot being pregnant and watching my body change…going 'Why did I put so many mirrors in this freakin' house.' I'm walking past these mirrors and I'm ready to die," Mariah said with a laugh. "But I left them there. It was what it was."
Watch the entire interview (via Neon Limelight) below:
Be the first to receive breaking news alerts and more stories like this by subscribing to our mailing list.