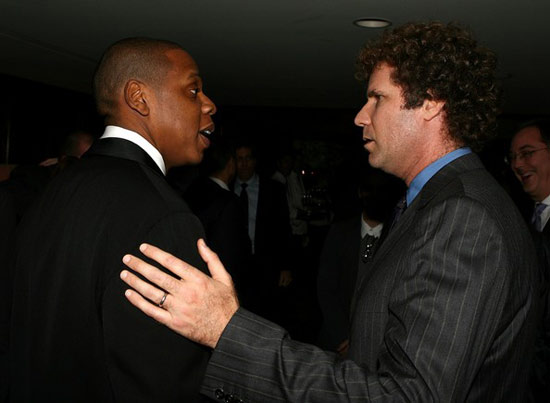 "We're gonna skate to one song and one song only!"
"No one knows what it means, but it's provocative … it gets the people going!"
Will Ferrell is flattered to be on Kanye West and Jay-Z's "Ni**gas in Paris" track.
In an email sent to MTV News yesterday, the 44 year-old actor revealed that Yeezy was the one who reached out to him over the sample from "Blades of Glory."
"Kanye reached out to me and I said, 'Of course,' " Ferrell wrote. "I was completely flattered when they asked if they could sample me into the song … and when I heard it for the first time, I just started to laugh because it felt so surreal. But I really did like the song."
Ferrell liked the track so much … that he even offered to film a piece that could be shown at the Watch the Throne concerts, however things aren't all the way together yet.
"We were trying to film a piece that they would use on the video boards of their concert, but haven't gotten it together," he wrote — and the whole process has opened his eyes to an entirely new career opportunity: Being the go-to sample guy on the hip hop circuit.
But regardless of them ever doing any future collaborations, Will says he still feels pretty damn good.
"It makes me feel very good," he wrote. "And completely justified for buying a V-neck sweater made out of nothing but diamonds."
Nice to know someone as big as Will Ferrell can still be humble and appreciative.
[MTV]
Be the first to receive breaking news alerts and more stories like this by subscribing to our mailing list.