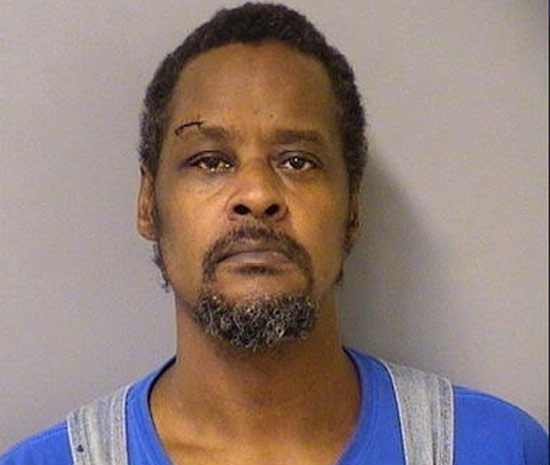 Meet Ledell Peoples.
This piece of shit recently stabbed a woman multiple times and killed her over a missing bag of Halloween candy. (Just from his mugshot you can tell he's a nightmare)
Read more below:
A man became so enraged over a missing bag of Halloween candy that he plunged a knife into a woman multiples times, according to police.

He was arrested in the Halloween night stabbing, and charges are expected to be upgraded after she died Saturday night.

Maria Adams, 49, was stabbed multiple times at 7150 S. Winchester Ave. on Halloween, according to the Cook County Medical Examiner's office. She died Saturday night at Stroger Hospital.

Her acquaintance, Ledell Peoples, 55, of the Winchester address, was arrested shortly after the stabbing on Halloween. He's accused of attacking Adams, and was charged with attempted murder and aggravated domestic battery, according to police News Affairs Officer John Mirabelli.

The fight stemmed from a missing bag of candy. At some point during brawl, a plate was thrown and Peoples suffered a cut over his eye, said the officer.  The fight continued to escalate until Peoples stabbed Adams, police said.

He was booked into Cook County Jail Thursday, where a judge ordered him held on $2 million bond, according to the Cook County Sheriff's office.

An autopsy is expected later Sunday, and charges are expected to be upgraded.

Wentworth Area detectives are investigating.
Killing in any situation is never a good thing … but over candy?!?! We hope Ledell burns in HELL and gets a bag of candy shoved up his azz everyday for it.
Be the first to receive breaking news alerts and more stories like this by subscribing to our mailing list.