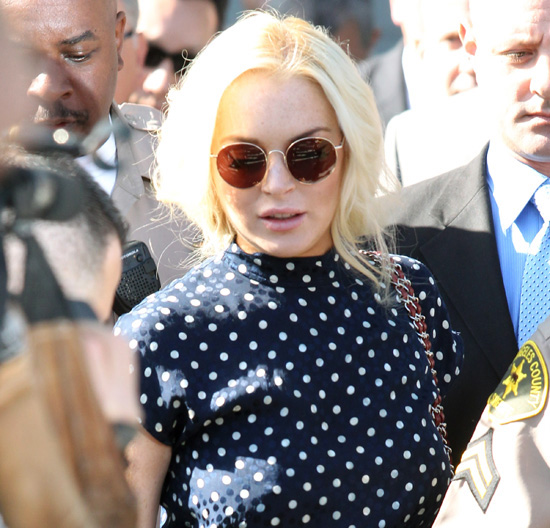 Lindsay Lohan has got to be one of the luckiest repeat offenders around.
The troubled actress checked into the Century Regional Detention Facility in Lynwood, California late Sunday night (Nov 6) after she was sentenced to 30 days in jail last week when a judge determined that she had violated her probation in her DUI and jewelry theft cases.
But due to jail overcrowding, and the fact that this chick has more chances than a Monopoly game, she was released early, after only spending about 4.5 hours behind bars, the L.A. Sheriff's department confirmed.
"All I can tell you is that she was already released," L.A. Sheriff's Deputy Tony Moore said early Monday morning.
A sheriff's spokesman had previously explained that a federal mandate to ease overpopulated jails in California allows nonviolent offenders to be sent home after only serving a fraction of their sentences.
Even though Lindsay is jail-free, that doesn't mean she's off the hook, as she still has several probation terms to adhere to.
She must continue her community service at the L.A. morgue and attend 18 more psychotherapy sessions. All of this must completed by March 29th.
The judge sternly warned Lilo that if she doesn't follow her new probation terms, her freedom will be revoked, and she will be hauled off to jail to serve an additional 270 days, though it's very likely that even in that scenario, she could be released due to jail overcrowding.
Be the first to receive breaking news alerts and more stories like this by subscribing to our mailing list.