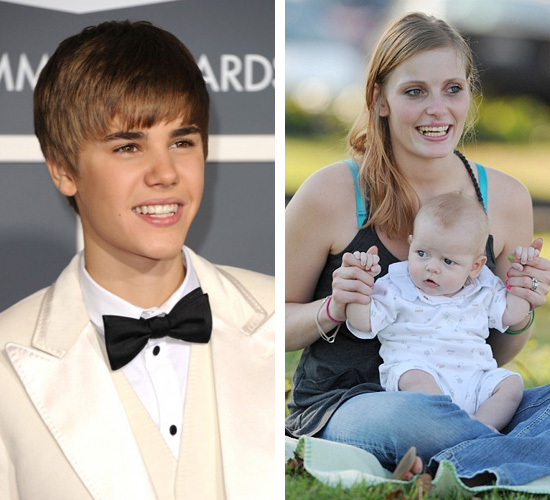 In an extreme effort to prove that he is not the father of crazed fan Mariah Yeater's four-month-old son, Justin Bieber will reportedly take a paternity test as soon as he gets back to he U.S. from Europe next week.
17-year-old Bieber, who has vehemently denied the 20-year-old fan's claim that he impregnated her, saying he never even met her, will most likely sue Yeater and her attorneys as well, to show them that they can't mess with the Biebs and get away with it.
"It's disappointing that people would stoop so low, but somebody needs to stand up to them," a source close to the situation told People.
Before it was confirmed that Bieber would take the paternity test, L.A. family attorney Steve Mindel (who is not involved with the case) said in an interview, "If Bieber indeed never met this woman, a DNA test may be the only way to clear his name."
However, if by some chance Bieber does end up being the father of the newborn, Yeater, who is seeking financial support from Bieber, will "hit the jackpot," L.A. family law attorney Lynn Soodi (also not involved with the case) said. "She could potentially receive tens of thousands of dollars in monthly support until the child turns 18. By law, a child is entitled to live the same standard as the father."
A rep for Justin Bieber told People in a statement:
"It's sad that someone would fabricate malicious, defamatory, and demonstrably false claims. We'll vigorously pursue all available legal remedies to protect Justin and to hold those involved with bringing this suit accountable for their actions."
Do you think Justin Bieber is the daddy?
Take our poll below and/or leave a comment!
Be the first to receive breaking news alerts and more stories like this by subscribing to our mailing list.