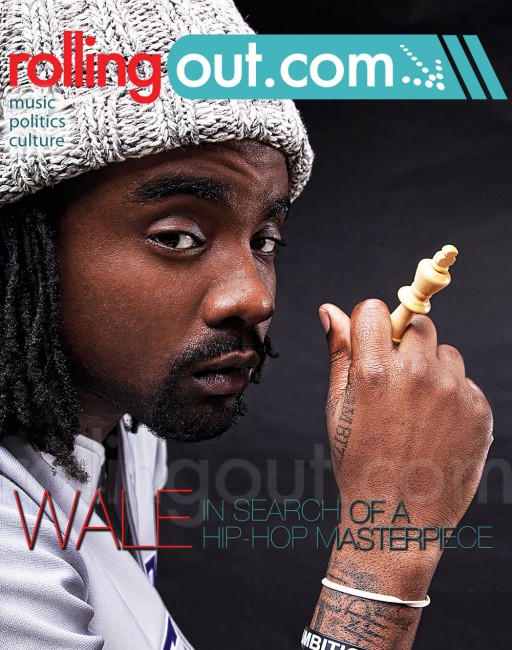 With a queen chess piece in his hand, rapper Wale, who is celebrating the release of his sophomore album "Ambition" this week, covers the latest issue of Rolling Out Magazine.
Inside the issue, the Maybach Music Group rapper talks about a number of topics, including why he signed with Rick Ross' new label and how that deal came about, what he wants his legacy in Hip-Hop to be, wanting to be an advocate for women and more.
Before the release of your first album, you built an impressive buzz for yourself. So what caused the album to fail to meet the high expectations?
I put that on myself to get back to where I need to be. We're working. I do music for my fans and family. My fans appreciated my first album. But my label didn't ship it for whatever reason. I re-evaluated my life and my situation and now I'm in a different place. I found out a lot of artists can't go to a city and do a show with 2,000 people. I'm blessed to have people who appreciate what I do.

When did Rick Ross reach out to you?
The Maybach Music Group deal came about when I was a free agent. I look at Rick Ross as more than an artist. I didn't sign to be a side kick, I want to be an artist and do what I'm capable of doing musically. Ross let's me do that. He's the boss at the label, but he's not bossing me around.

So what is the biggest difference in being at MMG vs. being at Interscope?
The difference is freedom. I'm very in tune with urban culture. I felt my last situation wasn't allowing me to grow with the urban culture. They saw a Lady Gaga opportunity and I went with it. I was a new artist and I didn't get it. I thought I was being ignored by black America. It's not as much money, but to connect with the people I grew up with is more important than connecting with pop fans. Even the white people who are familiar with my music deserve to hear what I'm really saying. I shouldn't be marketed toward top 40. When I listen to my first album, you can hear who I am talking to. But I now have an opportunity to change that.

You have a lot of female fans. How important is it for you to balance the risque songs such as "No Hands" with inspirational tracks such as "Diary"?
I want to be an advocate for the women. I may say some wild things, but that's our time to have fun. But I stand for fixing the world our way. Let's add spice to this and change the world. I believe women should go to school to network with others who will change the world. I'm encouraging. I'm a part of the problem, but I want to be a part of the clean up. "No Hands" is the party and "Ambitious Girls" is the clean up. We can have fun, but I hope you're getting up and going to class. I don't want to get in the way of that. That [is] something you have to do. For two years, I had to walk around with about $15 in my account. That was my time. I left school and had to get on my grind. I was about 21. Now show me you can work the system for four or five years and continue to do your thing.

You caught flack from black women for not having dark-skinned females in your "Pretty Girls" video. How did that make you feel?
It wasn't about that, but it showed me what I meant to the black culture. That made me realize that people hold me at a higher regard. That was when I knew I had to make a change. For "Pretty Girls," I didn't go on set until there were dark-skinned girls at the video shoot. I was waiting. The most horrible feeling in the world, was that my women think that I don't care about them. I'd rather go broke than for my black women to think that I don't care about them. I would rather lose everything than to have my queens think I'm turning my back on them. I was the only kid in my neighborhood with a father. And that's because I'm African and they don't divorce. It messed me up. When I was in Mississippi, a girl told me she had her first child at 16. So I made a song called "Illest B—- Alive." There's a special place in my heart for black girls. If you're black and have a black mother, you know how special they are.

Beyond the physical, what is the most attractive thing about a woman?
I like girls who can get the intellect popping. Instead of liking me just because I rap, I like girls who can ask about where I was mentally when I thought of making a certain record. I can find a nice amount of girls who think I'm attractive or whatever, but intellect is very important. "Lotus Flower Bomb" was a record that I wanted to create a long time ago. I'm not sure if radio was ready for that at the time. That's kind of an adult vibe. I was 23 when I was writing my first project. I was doing what I was told to do instead of doing what my heart told me to do.

What do you think people say about you as it relates to hip-hop?
I want my legacy to be that I was humble. I want people to know my heart more and more into every album. Know that I really stand for this culture and the people. Most of us know each other. Whenever people say there are only a few real dudes in this joint, I know that I'm one of them.
Be the first to receive breaking news alerts and more stories like this by subscribing to our mailing list.