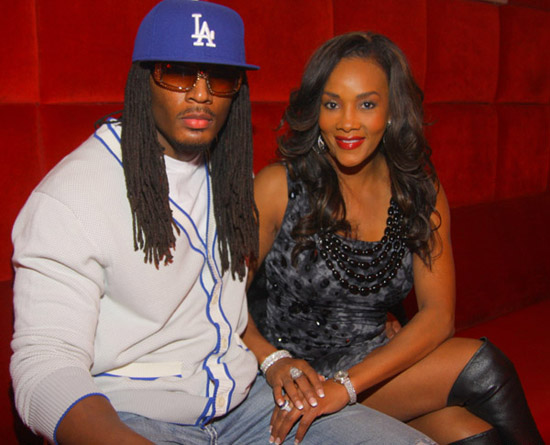 Actress Vivica A. Fox and her young club promoter fiance Omar "Slimm" White have called it quits.
Confirming the split, Slimm told TooFab:
"She's a good woman, it's just one of those situations where in life people outgrow each other. I'm highly intelligent, very wise and one thing I hate is negativity and drama, I hate arguing, and I value communication no matter what the problem may be. So as in any relationship, tension can build up and I finally had to walk away."
Vivica and Slimm's relationship had been the subject of a lot of gossip due to their nearly 20-year age difference (Slimm is 27 to Vivica's 46), but Slimm says that age had nothing to do with their break-up.
"I was only in it for love and it just didn't work out. Even though she was older than me the age difference didn't play a part," Slimm explained.
Fox candidly told Wendy Williams nearly a year ago of her plans to start a family with Slimm, "I'm very fertile, so I don't think I'll have a problem. We're planning after the tour to do the thing. If I could get a boy and a girl, that would be fabulous, and I'm shutting down shop and shipping these eggs off to Africa somewhere."
Had Vivica and Slimm gone through with a marriage, this would have been number two for Fox, who was married from 1998-2002 to aspiring singer Christopher Harvest.
Though the actress has chosen not to speak up about her split with Slimm, she took to Twitter Thursday and told a fan who was checking in on her:
"Thankx soo much 4 the kind words! I'm fine! At work and being very productive! God has got me! As always! :-)"
Be the first to receive breaking news alerts and more stories like this by subscribing to our mailing list.