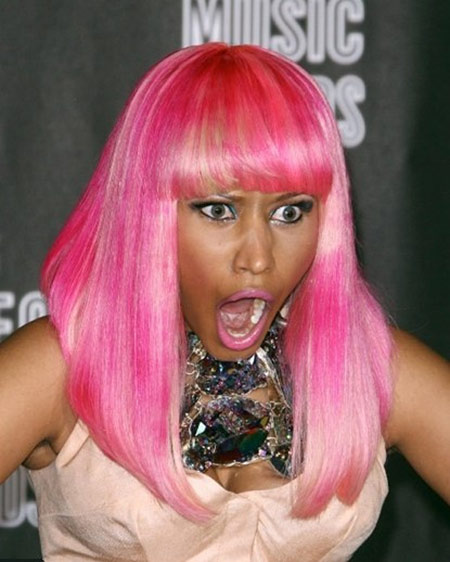 If you ever get the chance to work for Nicki Minaj, here's a word of advice. One thing you NEVER, EVER, EVER do is take her picture out of the trash and ask her to sign it. (That's a big NO-NO!)
The Young Money rapper got into a nasty altercation yesterday with a former maid over an incident that occurred weeks ago involving a trash can and an autographed picture.
TMZ has all the details below:
Here's the backstory. Law enforcement tells us, a couple of weeks ago, Nicki's maid took a photo of the singer out of the trash and then asked Nicki to sign it.  Nicki got pissed and fired her.

Cops tell us, the maid did come back today, and Nicki became enraged and ordered her to leave. A source privy to the fight tells TMZ, the maid stood her ground, demanding not to be "treated like an animal" — at which point, Nicki allegedly said, "I'll show you how to treat someone like an animal … get the f**k out of my house!"

Now here's where the stories are a bit conflicting.  One source says — contrary to what the cops say —  Nicki actually made a mistake, saw another maid and assumed she was the one Nicki had fired.

We have had multiple people involved in the incident tell us … the maid Nicki confronted was NOT the same maid she fired a few weeks ago.  It was a case of mistaken identity.

Either way, Nicki's boyfriend got in the act and began pushing the maid with his body.  The maid's boss called the cops and filed a battery report.

The cops came and the maid asked to make a citizen's arrest, but eventually decided against it so no one was taken into custody.
Damn … we kind of feel bad for the lady. Nicki know she could have hooked ol' girl up with an autograph. SMH!
Be the first to receive breaking news alerts and more stories like this by subscribing to our mailing list.