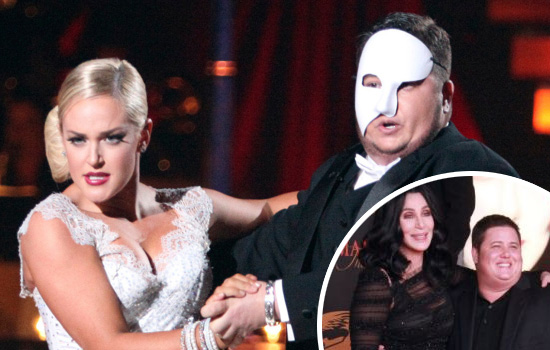 Last night, Chaz Bono became the 6th celebrity to be eliminated from ABC's "Dancing with the Stars" after he and his professional dance partner Lacey Schwimmer received low marks (19 out of 30) for their tango performance the night before.
During his critique of Bono's performanc, judge Bruno Tonioli compared him to a "cute little penguin," which upset not only Chaz and his partner Lacey, but also his Pop legend mom Cher.
Chaz's partner Schwimmer cried backstage during Monday's episode. "Every week he gets referred to as an animal," she said. "They always comment on his personality, and last I checked, this was a dancing show."
His mom Cher was also unhappy about Bruno's harsh comments. She tweeted:
IS IT DWTS Or LOOKING PERFECT WTS? ITS EASY 4 HIM 2 TAKE CHEAP SHOTS AT CHAZ ! LET HIM COME 2 "MY" STAGE

I COULD TEACH HIS LITTLE ARM WAVING ASS SOME MANNERS ! Critique CHAZ'S DANCE STYLE, MOVEMENTS ETC,.BUT DON'T MAKE FUN OF MY CHILD ON NAT.TV

IT'S NOT ABOUT CHAZ WINNING ! HE'S DOING HIS BEST& HE WILL STAY AS LONG AS HE STAYS ! THATS "SHOW BUSINESS" BUT, DONT B UNKIND 4 NO REASON
Chaz himself also had some words for Bruno:
"Bruno … makes comments about me being cute and cuddly and (compared me to an) Ewok, with the Princess Leia and this, like I'm some fat troll dancing with this beautiful woman every week and I'm sick of it.

"If you're an overweight woman in this competition, losing weight, they love you. If you're an overweight guy trying to do this competition, getting in shape, they penalize you for it, call you a penguin."
The celebrities left in the competition include Hope Solo, David Arquette, J.R. Martinez, Rob Kardashian, Ricki Lake and Nancy Grace.
The next episode of "Dancing with the Stars" airs next Monday (Oct 31 – Halloween) on ABC!
What do you think about Chaz Bono's elimination from "Dancing with the Stars" and Bruno's comments?
Be the first to receive breaking news alerts and more stories like this by subscribing to our mailing list.