Mariah Carey and Nick Cannon's newborn twins Moroccan and Monroe — aka "Dem Babies" — made their big world debut during their parents' highly publicized interview with Barbara Walters on ABC's "20/20" that aired Friday evening (Oct 21).
MiMi and Nick showed off their beautiful babies as they talked about everything in the interview, from being new parents to married life, their struggle to conceive, Carey's high-risk pregnancy and much more.
"I don't think I understood the enormity and the magnitude of what it really does to your body," 41-year-old Carey told Walters. "Carrying two babies. Unless somebody's been through it, it's difficult to understand what I went through, because my pregnancy was very unique in terms of what happened to me."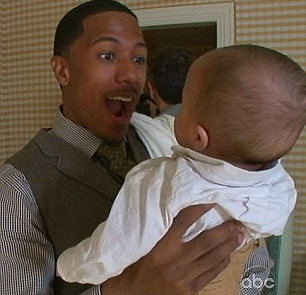 As for Nick, he said he doesn't want them to follow too much in their famous parent's footsteps, and he's already planning ahead for his children's future, calling the tins "little geniuses."
"Society puts too much on entertainment and entertainers," Cannon said. "They praise them like they're royalty, especially in America, where it should really be about the teachers or, you know, the doctors. I want them to be able to sing as beautifully as their mother. I want them to be able to play instruments and everything. But I want them like … 'Go get a Ph.D.'"
Back in June, Nick Cannon told US Weekly that his son Roc was "laid back like me," while daughter Roe takes after her mother. "My daughter's a diva like her mom," he said.
After much fanfare and anticipation, Mariah Carey and Nick Cannon welcomed their new additions into the world at a hospital in L.A. on their fourth wedding anniversary on April 30th.
Watch their "20/20" interview with Barbara Walters below:
Be the first to receive breaking news alerts and more stories like this by subscribing to our mailing list.