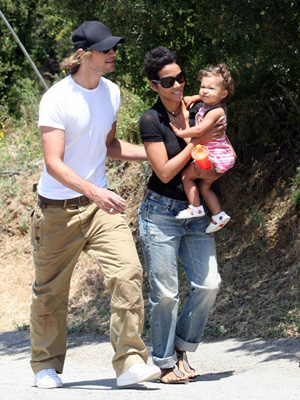 Halle Berry recently won another round in the custody battle with her ex boyfriend, model Gabriel Aubry, over the pair's 3-year-old daughter Nahla.
Apparently, Gabriel wanted to reverse a Los Angeles judge's original court order than a nanny be present whenever he has custody of Nahla while the two are in Europe (Gabriel is in Spain taking care of Nahla while Berry is filming a new movie in Majorca), but the judge refused Gabriel's request.
Although he's allowed to spend 3 hours alone with his daughter and is allowed to take her to the park or out shopping … a court order states that a nanny must be present at all other times, including overnight stays.
Aubrey feels as though the nanny is intruding on his relationship with Nahla, and doesn't like how his every move with his own daughter is supervised by some Nanny, while Halle and her new boyfriend Olivier Martinez get to spend solo time with her whenever they please.
Berry and Aubry have been going at it over the custody of their daughter ever since they broke up in the Spring of 2010 after spending 5 years together.
Aubrey has been accused of neglecting and verbally abusing Nahla, which probably explains why his visits with her must be supervised.
Well, that and probably this too (via Daily Mail):
A particularly bitter blow-up occurred in February of 2010 according to the quoted witness. Berry returned from a trip and found Aubry at her home and told him to leave or she would call police.

He screamed that she was a ''ghetto n****r'' and threw a chair against the wall,' the witness is quoted as saying. 'Halle was shaken and sobbing.'

The incident was not unusual, according to the witness.

Gabriel hated that Nahla was mixed race,' a colleague of Halle's claimed according to The Star. 'He never wanted her hair to be braided, and he always said that Nahla was white.

Friends tried to get him to understand that being mixed was part of her and Halle's heritage, but he wouldn't hear it…'
That racist son of a Bitch!
No wonder Halle doesn't trust him alone with their daughter. What is his problem?
Be the first to receive breaking news alerts and more stories like this by subscribing to our mailing list.