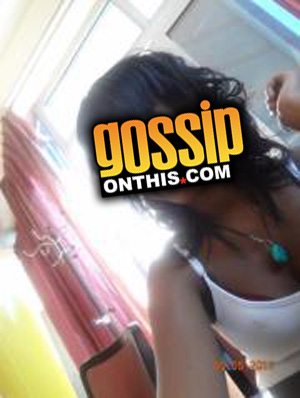 Amber Cole, the 14-year-old who was infamously caught performing oral sex on a male friend (purported to be her ex boyfriend who she was trying to "win back"), is said to be really taking advantage of her new-found celebrity.
Unconfirmed reports continue to mention that Cole has been talking about her "situation" all week on Twitter and Facebook, showing that she is milking this thing for all it's worth.
In the days following the eruption of the scandal, Amber immediately signed up on Twitter and begged celebrities to follow her. She even showed her own face and let the whole world know exactly what she looked like.
But is she simply a young woman who is "desperate" for attention … and not in a bad way?
Dr. Phoyenx Austin, a physician, writer and media personality said this about Amber's self esteem:
"[Amber's] actions clearly display that she is so desperate for ANY form of male validation and love that she would degrade herself to this degree. As for the boy, or boys, who are no more than parasites, I sincerely hope that they are dealt with by karma's hand — and maybe even a male relative that decides to step up to the plate. This is not boys being boys. Their actions were cruel and sick. And you can tell everything about an individual's soul based on how they treat someone they don't have to treat well."
If Amber has low self esteem, then she definitely needs help.
And the fact that this story is so huge, and not one organization for women or troubled teens have stepped up to give this girl the help that she needs, and deserves, is troubling.
So is she being ignored? We can't help but think about the amount of energy and effort that would be put into helping Amber out if she were blond-haired and blue-eyed.
Why hasn't anyone stepped up to the plate and at least offer the young girl some form of counseling?
Instead of trying to figure out "why" Amber did what she did, why aren't we trying to figure out "why" no one has offered to help her in the aftermath?
Because clearly, if that really is her on Twitter, she is lost and desperately needs to be found.
Today, Amber allegedly said on Twitter that she "loves" the boy in the video.
"So what if [first boy] exposed me," she tweeted. "It doesn't change my feeling towards him. I love him with everything and will always be here for him."
She continued, "I miss him … I love you both … you both will forever be in my heart. I just want these 2 boys in my life and I'm good."
If Amber is really saying things like that on Twitter, then hopefully she is joking. And if not, we can only hope that she will be able to get some help, because if she truly feels like that, then that is scary.
What are your thoughts?
Be the first to receive breaking news alerts and more stories like this by subscribing to our mailing list.