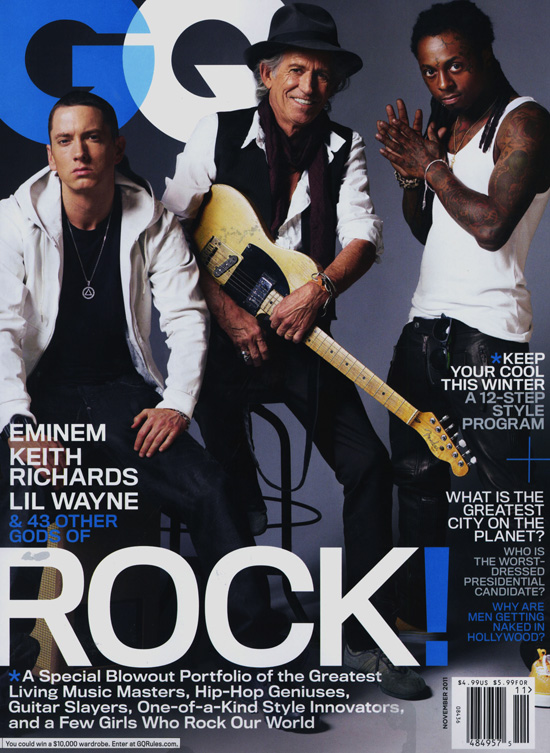 Rap legends Eminem and Lil Wayne share the cover of GQ Magazine's November 2011 "Gods of Rock" issue with Rock legend Keith Richards.
The tribute pays homage to artists who have survived through drug addictions, legal woes and other personal tribulations, something the three rock stars can relate to.
Also highlighted in GQ's "Gods or Rock" issue are Erykah Badu, Outkast's Andre 3000 and Big Boi, Metallica and more.
Inside the pages of the magazine, Eminem discusses his battle with drug addiction, which he started in 2000 when he released "The Marshall Mathers LP" and got even worse when he recorded "Encore" in 2004.
"Five or six songs leaked from the original version of Encore," Slim Shady recalls. "So I had to go in and make new songs to replace them. In my head I was pissed off: 'Oh well. Songs leaked. Fuck it. I'm just going to take a bunch of fucking pills and go in there and have a party with myself.' I'm sure the more pills I took, the goofier I got."
As a survivor of the battle rappers/rockers face with drugs, Eminem says, "The thing sobriety has taught me the most is the way I'm wired – why my thought process is so different." He adds, "I've realized that the way I am helps with the music. Sporadic thoughts will pop into my head and I'll have to go write something down, and the next thing you know I've written a whole song in an hour."
"But sometimes it sucks, and I wish I was wired like a regular person and could go have a f**kin' drink. But that's the biggest thing about addiction: When you realize that you cannot – for f**k's sake, you can not – f**k around with nothing ever again. I never understood when people would say it's a disease. Like, 'Stop it, d**khead. It's not a disease!' But I finally realized, F**k, man – it really is."
For more on Em, Weezy, Keith Richards and the others, pick up the November 2011 issue of GQ Magazine when it hits newsstands nationwide on October 25th!
Be the first to receive breaking news alerts and more stories like this by subscribing to our mailing list.