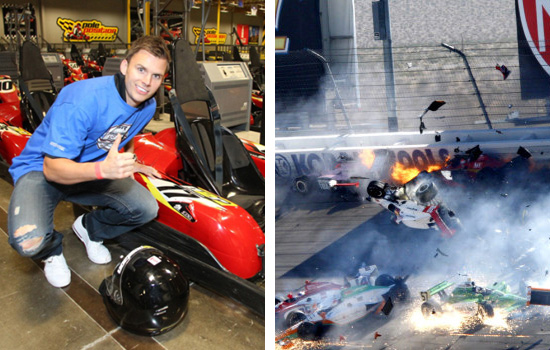 Two-time Indy winner Dan Wheldon died at the Las Vegas Motor Speedway after his car crashed and was involved in a fiery 15-car pile-up Sunday (Oct 16).
Three other drivers, including championship contender Will Power, were hurt in the pileup during Lap 11.

Wheldon was airlifted from the track to University Medical Center; about two hours later, his colleagues were told of his death by IndyCar CEO Randy Bernard, who said Wheldon's injuries were "unsurvivable."

"One minute you're joking around at driver intros. The next, Dan's gone," said Dario Franchitti, whose wife, actress Ashley Judd, had to bring him a box of tissues. "I lost, we lost, a good friend. Everybody in the IndyCar series considered him a friend. He was such a good guy. He was a charmer."

With the race cancelled, drivers, many sobbing openly, took part in a five-lap salute around the oval in honour of one of the sport's biggest stars.

The race was only minutes old when Wheldon, who started at the back of the 34-car field and was in position for a US $5-million payday if he had won, couldn't steer clear of a wreck that started when two cars touched tires.

Within seconds, several cars burst into flames and debris covered the track nearly halfway up the straightaway. Some points of impact were so devastating workers had to patch holes in the asphalt.

Video replays showed Wheldon's car turning over as it went airborne and sailed into what's called the catch fence, which sits over a barrier that's designed to give a bit when cars make contact. Rescue workers were at Wheldon's car quickly, some furiously waving for more help to get to the scene.

"When we came around after the caution (flag) was thrown, I can't even describe to you what the scene looked like on the race track from our point of view," rookie driver James Hinchcliffe of Toronto told ABC. "It was unlike anything I'd ever seen before in my life."

Added Ryan Briscoe: "I'll tell you, I've never seen anything like it. The debris we all had to drive through the lap later, it looked like a war scene from Terminator or something. I mean, there were just pieces of metal and car on fire in the middle of the track with no car attached to it and just debris everywhere. So it was scary, and your first thoughts are hoping that no one is hurt because there's just stuff everywhere. Crazy."

Wheldon, who came to the United States from England in 1999, won 16 times in his IndyCar career and was the series champion in 2005.

Despite winning this year's Indy 500, Wheldon couldn't put together a full-time ride this season. He was racing in Las Vegas on the same team as Alex Tagliani of Lachenaie, Que.

"It's a very sad day," Tagliani said on his Twitter account. "He was my little brother from another mother."

Also injured in the crash were JR Hildebrand and Pippa Mann. Both will remain in the hospital overnight. IndyCar said Mann was being treated for a burn to her right pinkie finger and will be released Monday morning; Hildebrand was awake and alert but will be held overnight for further evaluation. Power was evaluated and released. An autopsy was planned Monday for Wheldon.

IndyCar has not had a fatality since Paul Dana was killed at Homestead in 2006, during a crash in a morning warmup.

The accident appeared to start when Wade Cunningham's car swerved on the track and Hildebrand drove over the left rear of Cunningham's car. Hildebrand appeared to go airborne, and Cunningham's car shot up into the wall, setting off a chain reaction among the cars behind him.

Some of those cars slowed, others didn't, and others spun in front of Wheldon and Power. There was so much chaos on the track it was hard to tell who was driving what car.

Power appeared to fly over Alex Lloyd's car, rolling into the catch fence and landing on its right side. His in-car camera showed one of the front tires coming toward him in the cockpit.

Wheldon then appeared to drive over a car driven by Toronto's Paul Tracy, who seemed to be slowing down. Wheldon, however, went airborne and spun into the fence.

The track was red-flagged following the accidents while crews worked on fences and removed smashed cars.

"It was like a movie scene which they try to make as gnarly as possible," said Danica Patrick, making her final IndyCar start. "It was debris everywhere across the whole track. You could smell the smoke. You could see the billowing smoke on the back straight from the car. There was a chunk of fire that we were driving around. You could see cars scattered."

[CBS]
R.I.P. Dan Wheldon…
Be the first to receive breaking news alerts and more stories like this by subscribing to our mailing list.