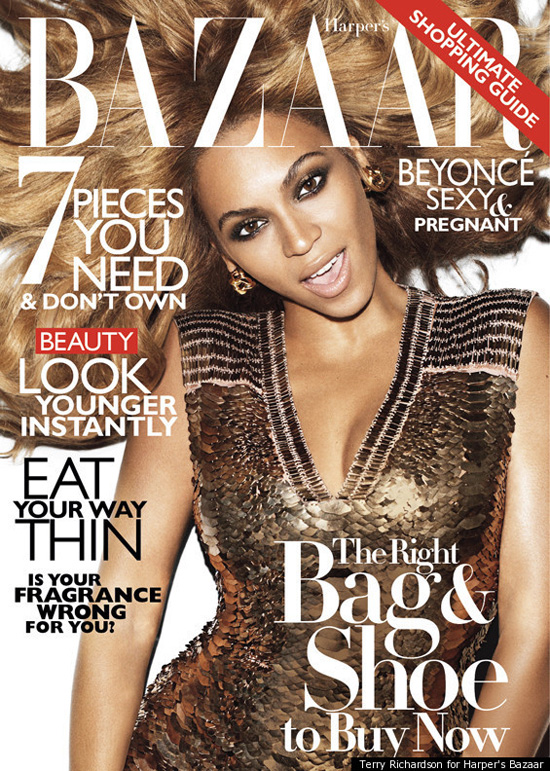 Beyonce is featured on the cover of the November 2011 issue of Harper's Bazaar Magazine, where the "Countdown" singer talks about how she announced her pregnancy to the world at this year's MTV Video Music Awards, living the married life with Jay-Z and how she's no longer concerned with other people's opinions about her life decisions.
On her big pregnancy reveal at the 2011 VMAs:
"I put a lot of thought into how I wanted to unveil it. It was important to me that I was able to do it myself. I was extremely nervous. It was the toughest red carpet I ever did. I didn't want a crazy picture or gossip story to break the news, so I decided to say nothing and proudly show my baby bump. I felt it was more powerful to see the love and enthusiasm as opposed to saying anything.:
On living the married life with her husband, rapper Jay-Z:
"We have been together since I was 20 years old. We took our time and developed an unbreakable friendship before we got married. I admire his ability to inspire others. To me, Jay represents the American dream. Jay's music has helped define our generation. All that he has overcome and worked to achieve gives millions hope that they can become whatever they want to be. I respect him so much; he is a great man and a great artist.
"We focused three years on our marriage and found that it brought us an even stronger bond and connection. But like anything great and successful in your life, marriage takes hard work and sacrifice. It has to be something both you and your husband deeply want. The best thing about marriage is the amount of growth you have because you can no longer hide from your fears and insecurities. There's someone right there calling you out on your flaws and building you up when you need the support. If you are with the right person, it brings out the best version of you."
On her forthcoming maternity line for House of Dereon:
"All I see now are clothes that are flattering on a pregnant woman. It's been so exciting for me! I love figuring out designs that still make me feel edgy and sexy while pregnant. Flowy fabrics are always flattering says, but I still rock my stilettos. I've had so much fun with fashion over the months. I have been pregnant through every event I've done, from the Billboard Awards to Glastonbury."
On the women who inspire her fashion-wise:
"I love Kate Moss. I think she has great style. And I always admire Victoria Beckham and Gisele [Bündchen]. Their style is modern but always classic."
On where she is in life right now:
"I am finally at the stage in my life where I am not so concerned with other people's opinions about my life decisions. It is so liberating to really know what I want, what truly makes me happy, what I will not tolerate. I have learned that it is no one else's job to take care of me but me."
Gwyneth Paltrow on her BFF Beyonce:
"Our best times have been when we are just sitting around in sweatpants, having a glass of wine, chatting about life," Paltrow says. "B is wise beyond her years. She has taught me the value of speaking your mind. She is clear and honest and true to herself while being respectful. She will be an incredible mother because she is so full of love and she knows who she is."
[HB]
Be the first to receive breaking news alerts and more stories like this by subscribing to our mailing list.