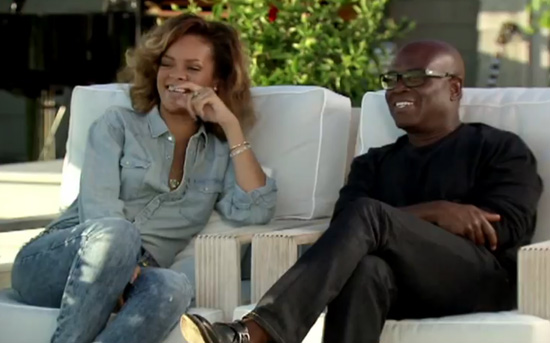 Rihanna, Pharrell and Enrique Iglesias lent their musical expertise on Wednesday night's (Oct 12) episode of "The X Factor."
Rihanna joined X Factor judge L.A. Reid at his home in the Hamptons mentoring the boys, and Pharrell was over at Paula Abdul's house helping her out and mentoring the groups.
Nicole Scherzinger got some help from her friend Enrique Iglesias, who critiqued the contestants aged over 30, while Simon Cowell's guest judge Mariah Carey was unable to fulfill her duties due to her flight being grounded because of Hurricane Irene.
Watch Rihanna, Pharell and Enrique Iglesias guest judge on the X Factor below:
L.A. Reid & Rihanna
Brian Bradley
Skyelor Anderson
Nick Voss
Nicole Scherzinger & Enrique Iglesias
Dextor Haygood
Elaine Gibbs
James Kenney
Paula Abdul & Pharrell Williams
The Anser
4Shore
Lakoda Rayne
The Brewer Boys
Simon Cowell & Mariah Carey (No-Show)
Tora Woloshin
Caitlin Koch
Drew Ryniewicz
Be the first to receive breaking news alerts and more stories like this by subscribing to our mailing list.