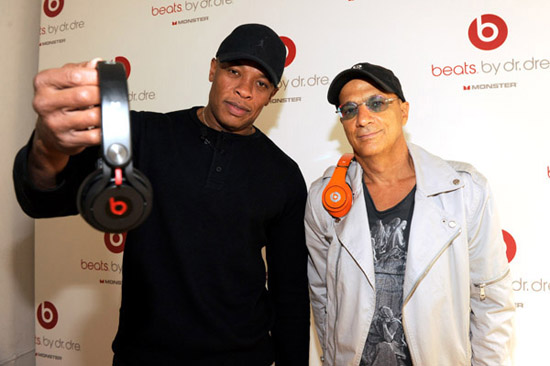 Rapper/producer Dr. Dre and Interscope chairman Jimmy Iovine held a media event in Manhattan Tuesday night (Oct 11) to present the "Beats Holiday '11 Product Showcase," their newest line of Beats by Dre headphones.
The new line of production quality headphones, to be released just in time for the upcoming 2011 Holiday season, features three new products, including the newly revamped standard headphones with 5 new colors — pink, orange, purple, blue and gray — due in stores next week (retail: $350).
A special set of limited DJ headphones (designed with the help of hitmaker David Guetta) were also announced, as well as a wireless Bluetooth model with a rechargeable battery than can sync with iPods, iPhones, iPads and other devices.
"You see all these rappers now with headphones – let them try – Dre is not a just a rapper. He's a master of sound, which reflects in our products," Iovine, the CEO of Beats By Dre, said. "So all these other rappers can try to introduce their own headphones. It doesn't bother us at all. All it does is make us look better." (Shots fired at 50 Cent, maybe?)