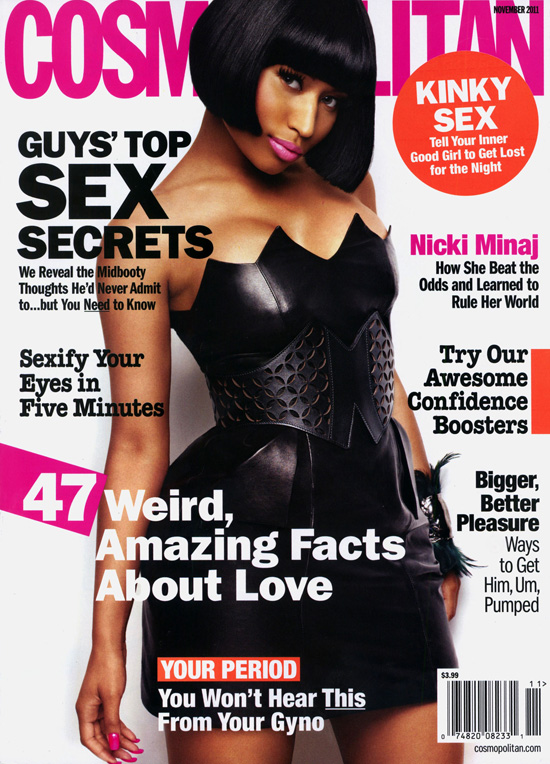 Nicki Minaj looks like a modern-day Catwoman on the cover of the November 2011 issue of Cosmopolitan Magazine, where the rap-stress talks about dealing with guys in the industry, the difference between herself and Lady Gaga, her abusive father and how she had suicidal thoughts back when she was a struggling artist.
The Young Money front-woman also revealed a list of things she sees herself doing over the next 5-10 years:
In 5 Years: "I will be getting married and, a couple of years after that, will have a bun in the oven""

In 10 Years: "I'll have hundreds of millions of dollars I will have put out five albums & will have an Oscar & Grammys"
Read more excerpts below!
On having suicidal thoughts in the past:
"I kept having doors slammed in my face. I felt like nothing was working. I had moved out on my own, and here I was thinking I'd have to go home. It was just one dead end after another. At one point, I was, like, 'What would happen if I just didn't wake up?' That's how I felt. Like maybe I should just take my life?' I would pray to God to make me famous so that I could buy my mother a huge house."

On her abusive father:
"He would beg, cry, stalk us… One time, he pulled my mother out of a car and dragged her for two blocks. After that, I had a phobia about unlocked doors. Anywhere my mother and I were, I made sure the door was locked, because that was my only way to protect her."

On the difference between herself and Lady Gaga:
"I think Gaga is freakin' dope for that. But I can't be bothered. Give me my sweats. I like transforming from completely raggedy to 'Ahhh, I'm ready'. That transformation gives me a high."

On what physically attracts her to a man:
"I do like a dope nose profile, one that's straight on the side. And I like full lips. I've never kissed someone who didn't have full lips."

On dealing with guys in the industry:
"When you come into the business as a woman, you have to pay a lot of mind games because the men tend to be very aggressive. It's like chess—you have to protect your goods. Had I just started screwing the guys, it would've been over because they never would've taken me seriously."
Be the first to receive breaking news alerts and more stories like this by subscribing to our mailing list.