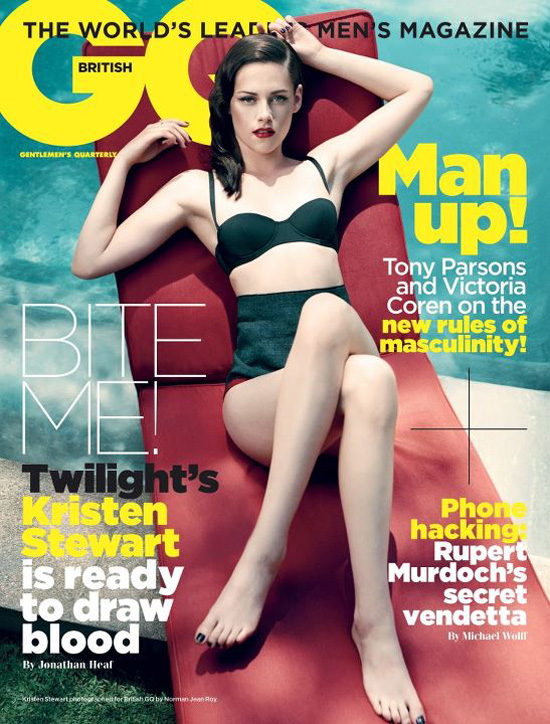 Kristen Stewart poses in a black, retro-styled bikini on the cover of the upcoming November 2011 issue of British GQ Magazine.
Inside the issue, the "Twilight" actress gets very personal and even talks about her "English boyfriend," who we all know is her on-screen lover Robert Pattinson.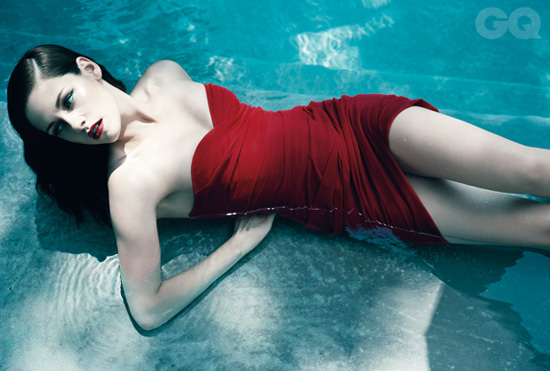 Read an excerpt from the issue below:
Snow White and the Huntsman is filming in and around Gloucestershire, although Kristen is spending a good deal of time in a rental in Notting Hill, London. The day before, while at the GQ shoot, she had explained that she was looking forward to seeing more of the UK, as "my boyfriend is English", although when I bring this up again the blood drains into her boots. "I never would have said that if I knew you were going to be interviewing me."

I honestly hadn't expected such a defensive reaction, but it's clear when she feels her privacy is being breached, Kristen is quick to transform into "Tiger Mom". The whole issue, if you don't already know, has to do with whether or not she's dating her Twilight co-star Robert Pattinson, the subject of which has seen more speculation than the origin of Barack Obama's birth certificate. I tell her I'm surprised this is such an issue seeing as the evidence is already out there for all to see on the web – the photos, the stolen moments, the Christmas getaways… "Yeah, I know it is," she admits. "So much of my life is so easily googled. I mean, it's like, come on guys, it's so obvious!" Her mood tights, perhaps all too aware of how much she's already said. "But this subject, I don't think you realise what a big deal it is for people. Well, it is a big deal. They would be 'Oh. My. God' There would also be still a 50/50 split. Some people would still be, 'See, told you they're not together."

Kristen is acutely aware of all the gossipmongers. Far more so than I am, it seems. She knows about names: the "Robstens" (those who think K-Stew" and R-Patz" are together); the "Nonstens" (those fans who think they aren't) and the "F***stens" (those who say they don't give a monkey's either way – but actually really do). I ask her who it is such a big deal to? These deranged fans? To her and Rob? What is it she's so worried about?

"I don't worry about it at all. It's just one of those things. I'm selfish. I'm like, 'That's mine!' And I like to keep whatever is mine remaining that way. It's a funny little game to play and it's a slippery slope. I always say to myself I'm never going to give anything away because there's never any point or benefit for me."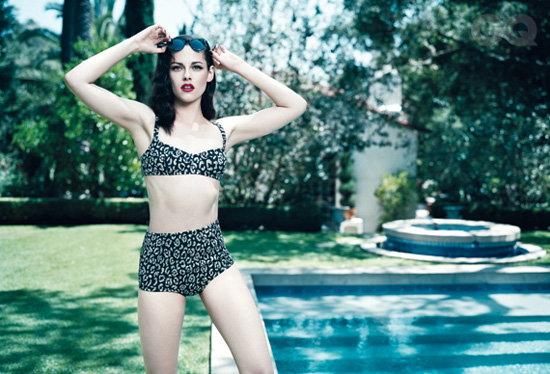 Be the first to receive breaking news alerts and more stories like this by subscribing to our mailing list.