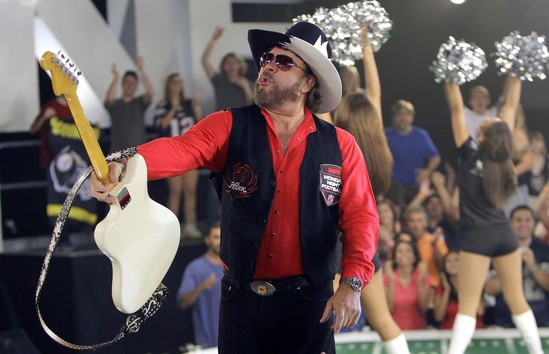 Hank Williams Jr. is putting his big ol' country foot in his mouth after he made some out of pocket comments about President Obama, comparing him to Hitler yesterday on Fox News' Fox and Friends.
Talking to the show's hosts live via satellite Monday (Oct 3), the country music singer got into a political discussion when he called the Speaker of the House John Boehner's golf game with President Obama was "one of the biggest political mistakes ever."
"It's like Hitler playing golf with [Israeli Prime Minister Benjamin] Netanyahu," he confidently said.
Seeming a little taken aback at Williams' outlandish comment, Gretchen Carlson (one of the Fox News anchors) asked the 62-year-old musician to clarify, saying, "You used the name of one of the most hated people in all the world to describe, I think, the president."
"That's true," Williams said. "But I'm telling you like it is."
Now Hank Williams Jr. has issued a statement, claiming his remarks were "misunderstood."
"Some of us have strong opinions and are often misunderstood," he said. "My analogy was extreme — but it was to make a point. I was simply trying to explain how stupid it seemed to me — how ludicrous that pairing was."
He continued, "They're polar opposites, and it made no sense. They don't see eye-to-eye and never will. I have always respected the office of the president."
After Williams made his comments on Fox & Friends, ESPN refused to play its traditional Monday Night Football opening song (which is sung by Williams) for the Indianapolis vs. Tampa Bay game Monday.
"While Hank Williams Jr. is not an ESPN employee, we recognize that he is closely linked to our company through the open to Monday Night Football," the network said in a statement. "We are extremely disappointed with his comments, and as a result we have decided to pull the open from tonight's telecast."
Watch Hank Williams Jr. compare President Obama to Hitler below:
Be the first to receive breaking news alerts and more stories like this by subscribing to our mailing list.