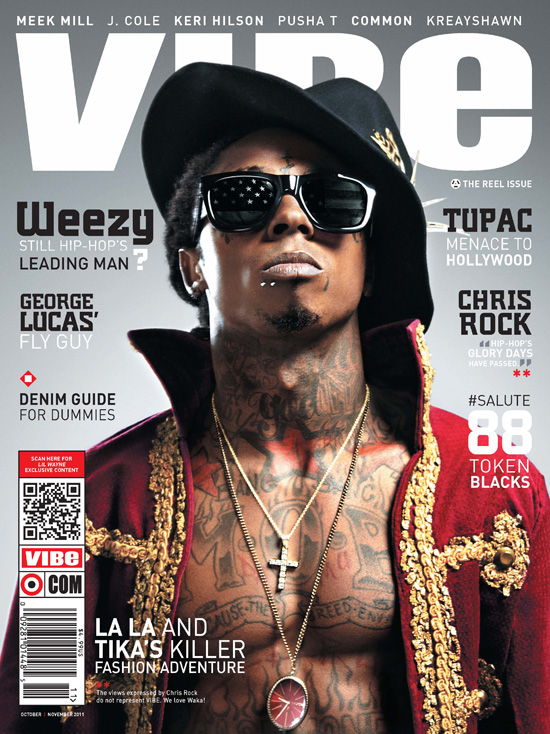 Rap superstar Lil Wayne is the latest Hip-hop figure to grace the cover of VIBE Magazine.
Dressed in a gold-trimmed, red velour jacket and a black fedora, Weezy looks like he's channeling late rock legend Jimi Hendrix on the cover of the October/November 2011 issue of the magazine.
Inside, the Young Money CEO candidly dishes on a number of topics, including dissing Jay-Z and the repercussions behind it, whether or not he looks at his rap protege Drake as competition, how competition is for "the old guys," and lots more.
Read a few excerpts from the interview below:
"There's no competition [with any artists]. Music isn't about competition no more. All the gangster rappers are happy, all the skateboard rappers are happy, all the white rappers are happy… Everybody just happy to do music these days. There are no problems. That shit died a long time ago with them old-ass rappers. We are just making music, making money and having fun feeding our families. Competition is for the old guys."

VIBE: You say competition is for the "old guys," but it sounds like you're going at Jay-Z with that line, "I got your baby money/Kidnap your bitch, get that how-much-you-love-your-lady money." Are we looking at it the wrong way?

LIL WAYNE: I know for a fact, music is about perception. You can't do anything but perceive what you hear. If I know that for a fact, I can never be upset about someone's reaction to it. I'm not gonna say I don't know what will happen before I say it [on record]. I do know what will happen. I am aware of it. It is what it is.

VIBE: So you knew the repercussions of going after Jay before anything even happened?

LIL WAYNE: Well, I'm a man. I believe as a man you should know that. Every man should know the repercussions and consequences behind whatever they do before they do it. And of course, I know there won't be any repercussions behind what I did.

VIBE: You mentioned how humbled you were at the success of "She Will." Drake, who wrote and performs the song's chorus, has now become a platinum star in his own right. Do you look at the guy and say, "Wow, I helped create a monster, I have to stay on my toes"?

LIL WAYNE: I don't look at it like that. Drake is my artist. If he wasn't my artist, then yeah maybe. But that's my artist. He's not [just] a friend. We're more than friends. It's business. It would be impossible for it to be a competition. I mean, I'm the guy's boss.

VIBE: Given that Cash Money artist Jay Sean is a native of the U.K., you probably have some strong feelings about the London riots and how some talking heads blamed it on hip-hop culture.

LIL WAYNE: All you could do is pray for the people that were dealing with the situation and hope for the best. As far as them blaming hip-hop, you can blame Jesus for things, so you can't really fault anybody for blaming someone or something. All you can do is hope for the best.
Be the first to receive breaking news alerts and more stories like this by subscribing to our mailing list.