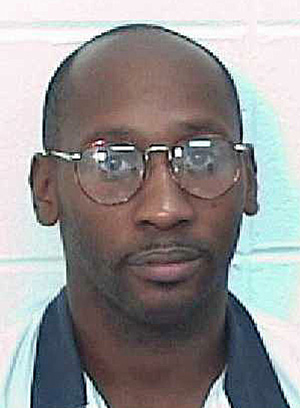 Troy Davis, whose case drew international attention, was put to death by lethal injection for the 1989 killing of an off-duty police officer in Savannah, Georgia, prison officials announced Wednesday night.
Until the very end, Davis maintained his innocence.
After he was strapped to the death gurney, he lifted his head to address the family of the slain officer.
He told the family of Mark MacPhail that he was not responsible for the officer's death and did not have a gun at the time, according to execution witnesses.
Davis said the case merited further investigation, talking fast as officials prepared to give him the lethal cocktail.
The execution followed the U.S. Supreme Court's rejection of a stay, allowing the state to proceed. Davis was declared dead at 11:08 p.m. ET.
Throughout the day, Davis' lawyers and high-profile supporters had asked the state and various courts to intervene, arguing he did not murder MacPhail in 1989.
Davis initially had been scheduled to die by lethal injection at 7 p.m. ET. But the proceeding was delayed more than three hours as the justices pondered a plea filed by his attorney.
Several hundred people, most of them opposing the proceeding, gathered outside the state prison in Jackson where Davis, 42, awaited his fate. Others held a vigil in a nearby church.
The inmate's sister, Martina Davis-Correia, was among those who held a vigil outside the prison. Before the U.S. Supreme Court's decision, she said officials needed to take more time to examine the case.
"When you are looking at someone's life, you can't press rewind," she said.
More than 100 officers, many in riot gear, stood guard over the largely-quiet gathering, which featured candles, occasional prayers and songs.
"Tonight the state of Georgia legally lynched an innocent man," Davis' lawyer Thomas Ruffin Jr. said. "Tonight I witnessed something tragic."
Be the first to receive breaking news alerts and more stories like this by subscribing to our mailing list.