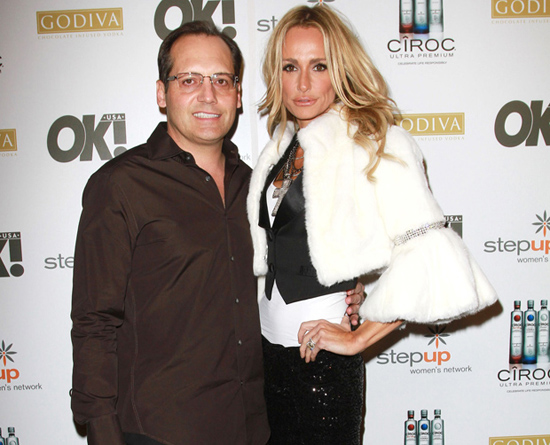 Taylor Armstrong continues to explain intimate details regarding her husband's suicide. Usher is being accused of ripping off someone else's song. Maggie Gyllenhaal says she lends vibrators to her friends. ….. What?! Yeah, Thursday morning gossip will have you asking that question a lot.
No offense, but … Russell Armstrong committed suicide well over a month ago, yet his wife Taylor Armstrong is still making media rounds as if it happened yesterday. Read what she told ET in a recent interview: "I'm sure a lot of people won't understand this, but I asked the emergency workers if I could go in and hug him before they took him away, but they wouldn't let me," Taylor says, wiping away tears. "I just felt like I needed to see him one last time, but they wouldn't let me." She even goes on to explain how she broke the sad news to her 5-year-old daughter. She basically lied, and nothing is wrong with that. The kid is 5. It's hard to tell a 5-year-old 'Daddy killed himself.' But still, why is she telling the whole world all of these personal and very private details about something so personal … and private??? She said, "As I was laying in the street screaming, I realized that my little girl was there and I had to pull it together to get her out of thereI just told her that daddy got sick and he died. [I told her] we could pick a star in the sky and it could be daddy, and that she could talk to him every night." WTF? Someone please get this woman a seat and kindly tell her ass to make friends with it. That is all. [ET]
Some non-famous guy is accusing Usher of stealing a song from him. Apparently, Usher "used" some material from said non-famous guy, who really wishes he were famous, like Usher, in his hit single "Burn." (You know, that song EVERYONE loves from that "Confessions" album EVERYONE loves?) After a quick listen to that non-famous guy's song, we hear NO similarities. None. Not even one. But still, that really un-famous guy got a judge to approve his case and is suing Usher!Imagine that. A non-famous person suing a very famous person, claiming that the famous person "stole" from them, and using some old, tired song that no one has ever heard of as some sort of "proof." That has like, NEVER happened before. Has it? [Billboard]
Trey Songz' manager Kevin Liles and his wife Erika just had a baby. Congrats! [NYP]
BET considers LL Cool J to be a Hip-Hop icon, so they're giving him their prestigious "I Am Hip-Hop Icon" award at the 2011 BET Hip-Hop Awards next month. Okay? Get it? Got it? Good. Mr. Cool J will accept his award and lick his lips about 101 times on October 1st in Atlanta. [Star Pulse]
Lindsay Lohan has finally found a job! And it doesn't having anything to do with "blow" or "hand." You know, the kinds of jobs Lilo is used to. Good for her for stepping outside of her comfort zone! [Radar]
Some actress we've never heard of named Maggie Gyllenhaal (Sorry. We didn't know Jake Gyllenhaal had a sister who acts. Shoot us.) is starring in a movie about the invention of vibrators called "Hysteria." (We are so not joking.) And she says she was bombarded with so many of the female sex toys during shooting, that she now has enough to share amongst her friends: "By the time I finished the movie I'd been sent maybe 15 vibrators by different people in London with vibrator stores. It was a pleasant surprise. So I have this incredible collection, and I actually use like one or two of them. I lend them to my friends, and they'll take them for six months at a time." We've heard of women sharing clothes, shoes and even boyfriends. But sharing a sex toy is taking sh*t too far. TOO GOT DAMN FAR! [Contact]
Kendra Wilkinson has a confession! "Hank and I had sex on a jet ski in Cabo. It was awesome… That's the fun of it. Sex is sex… I'm not a PDA person, but I like sex in cars and stuff!" Oh … okay. [US]
Speaking of attention whores. Levi Johnston (You remember Bristol Palin's baby daddy, right?) is back with more news about that damn Palin family. Turns out, Bristol got pregnant on purpose just to spite her evil mom Sarah Palin. Levi told Wendy Williams in an interview that aired Wednesday: "Sarah had Trig and that really sparked [Bristol] to have a child. We previously talked about it, but that's what really got her going on it. She was really jealous. And that's what sparked us to have a child." He then goes on to talk about how they had sex and other extremely personal details, like how her parents forced them to get engaged. Yada Yada Yada Yada Yadaya … Ya! GOT DAMMIT! Shut the F**K UP Levi! [THR]
Some of the folks over at CBS say that Ashton Kutcher is "a really nice guy. Just a nice guy. And he's OK on set. He gets the job done … that's what we all want." But ……….. "He's just not as funny as Charlie. Not that we'd want Charlie back if you doubled our salaries, [but the show] just isn't the same anymore. [Ashton Kutcher is a] safe replacement."That sounds like a really really nice way of saying, "We want Charlie back." And after seeing that Season 9 premiere Monday night, we kinda do too. **Insert sad face here** [Celebrity-Gossip]
Be the first to receive breaking news alerts and more stories like this by subscribing to our mailing list.