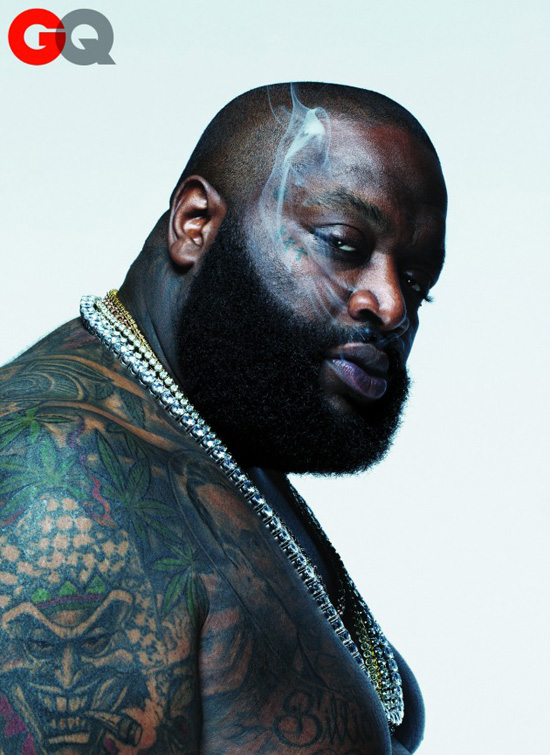 GQ Magazine recently profiled rapper Rick Ross for a feature in their latest issue, and had one of their writers — Devin Friedman — hang out with the "Maybach Music" emcee for an entire day to see what it feels like to live like a "Bawse," as Ross mentions on a regular in his music.
The result? A HILARIOUS write-up detailing one hell of a day, and some of the funniest quotes from Rick Ross you'll ever read. Seriously.
And guess what? We picked out 10 of our favorite ones, just for you, because we care that much.Check 'em out below!
01. On hanging out with Leonardo DiCaprio in Cannes:
"Cannes," he says, like the word transports him back. "That was my first time going there. Took the team over, ended up fucking around, getting some Ferraris, Lamborghinis, going to the Eden Roc, kicking it with a few homeys. Shout-out to Leonardo DiCaprio."
02. On having the best of the best when he's recording music:
"I may come down here [to Miami] to record ten records over two or three days. I just have my homeys or whatever bringing me the best food. I smoke the best weed. I get the best massages. I keep myself in shit like this."
03. On living, breathing, eating and smoking like a "Bawse":
"I'm single. I'm enjoying life. Being a boss. Like all true bosses, one day you gotta give it up." One day. But not today. Today he's still the Boss. Or, as he says it, the Bawse. He also calls himself Rozay and often refers to himself as a don. Like this evening at Houston's, one of his favorite restaurants.

After he finished eating a dinner of fried cheese bread, artichoke dip, roasted chicken with sides, and three pieces of Key lime pie (two of them were to go; come on, son), he pushed his plates away and said, "That's how you gotta eat. You gotta eat like a don." He has a habit of handing down proclamations like that about the way bosses should live.
04. On political figure Anthony Weiner getting caught in a sexting scandal:
"How the fuck that shit get out?" he wanted to know. He was told that Weiner tweeted a picture of his dick to someone. "Chicks send me pictures," Ross said. "And I appreciate it! I love all of them. But I don't do that shit. I'm the Boss." He shook his head, his expression hidden behind his candy-apple-red-framed aviator sunglasses. "Real niggas don't send dick flicks."
05. "Man, you need to stay in touch with your marijuana more often. You know what I'm saying? You'd just be so in touch, man, with yourself. For me to be in the position I am? And I live a pretty stress-free life, man."
07. "We gonna go to the strip club. You feel me? Leave in about thirty minutes. Not gonna stay too long. I sent one of my homeys ahead to get some bottles and some singles," he tells me. How many singles? "On a cool night like this? Probably start out with $10,000 in singles."
06. "You see anything you want to fuck with, compliments of Rick Ross?"
08. On people rocking "John," his song with Lil Wayne, hard on the streets:
"They better be," Ross says. He listens to his verse, and when it's over he says: "I'm a hustler. I'm the Boss."
09. "That's one of my boss rules. It feels good to be somebody!"
10. On his expensive collection of watches:
"It's a lucky coincidence you're here," Ross told me. "I have a $100,000 watch coming today."

"That's disgusting!" the rapper (and Maybach artist) Pill says, looking at them. "The rose gold one look like pink champagne!" Ross says. "Rosé! You want to drink that dial."
BONUS: "I like that Egypt bitch," Ross says. He's talking about a stripper who had paid special attention to him—a light-skinned woman with a nose ring. "She have soft edges." He explains to me what that means: "She have natural hair."
There you have it. That's what it feels like to live the "Bawse" life. Any questions?
[GQ]
Be the first to receive breaking news alerts and more stories like this by subscribing to our mailing list.