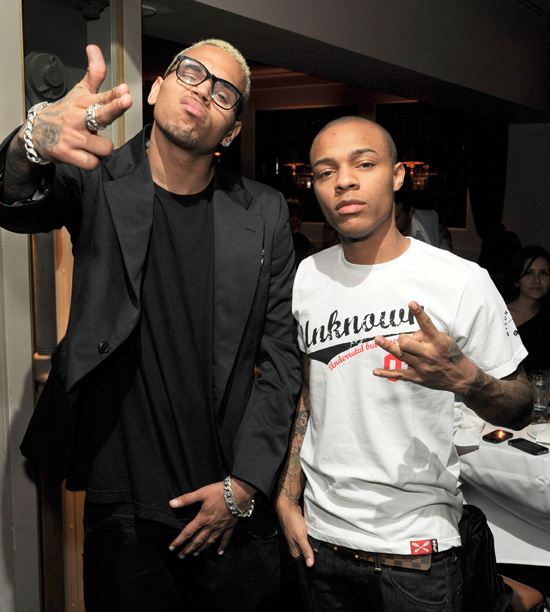 Best friends Chris Brown and Bow Wow have confirmed that they will be touring together!
Brown has added Bow to the North American leg of his F.A.M.E. Tour. The "Price of Fame" rapper and new father will kick off his set in Miami on October 5th and will carry on the bill for the rest of the month.
As he readies his 8th studio album "Underrated," scheduled for a December 6th release, Bow will join T-Pain, Kelly Rowland and Tyga as supporting acts for Chris' tour.
"It's gonna be fun, you know?" Bow promised. "Me and Breezy are brothers man. Our fans know that. It's just a different energy when we are on the same bill together or in the same arena. The fans know what to expect, and that's a hell of a show."
The F.A.M.E. tour dates that will feature Bow Wow are listed below:
• Oct. 5 – Miami, FL – American Airlines Arena
• Oct. 7 – Tampa, FL – 1-800-ASK-GARY Amphitheatre
• Oct. 8 – Charlotte, NC – Verizon Wireless Amphitheatre
• Oct. 9 – Virginia Beach, VA – Farm Bureau Amphitheatre
• Oct. 12 – Kansas City, MO – Sprint Center
• Oct. 14 – Dallas, TX – GEXA Pavilion
• Oct. 15 – New Orleans, LA – New Orleans Arena
• Oct. 16 – Houston, TX – Woodlands
• Oct. 18 – Phoenix, AZ – Ashley Pavilion
• Oct. 20 – Los Angeles, CA – Staples Center
• Oct. 22 – Oakland, CA – Sleep Train Concord
• Oct. 23 – Sacramento, CA – Sleep Train Amphitheatre
• Oct. 26 – Memphis, TN – FedExForum
• Oct. 28 – Philadelphia, PA – Wells Fargo Arena
• Oct. 29 – Pittsburgh, PA – Consol Energy Center
• Oct. 30 – Hartford, CT – XL Center