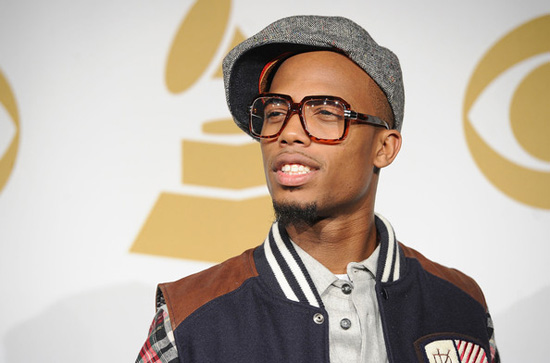 Rapper B.o.B is making major headlines for skipping out on a liquor tab worth over $1,000 at a nightclub in Ithaca, New York Saturday night (Sep 17).
According to reports, the Grand Hustle (T.I.'s label) artist, and his crew walked into Level B nightclub after previously playing a concert at nearby Cornell University, and ordered $900 worth of Vodka (3 bottles at $300K a pop), and even received a complimentary bottle on the house.
But staff members at Level B nightclub say they felt played by the rapper after he refused to pay his $1,060 bill.
Level B owner Brad Weiss said that B.o.B. and his coterie of about 12 people ordered three bottles of $300 Grey Goose Vodka, received a complimentary bottle of champagne and were given priority service at their reserved bar space. But later in the night, the group left without paying its bill, which would have included $160 in gratuity, according to Anthony Vipond, B.o.B.'s principal waiter on Saturday.
Vipond, who claims that he waited on B.o.B and his entourage for over an hour, says that when he realized the rapper and his entourage weren't coming back to pay off their tab, he chased them into the street, but was told (by B.o.B's manager), "We're doing you a favor for not charging you … When we go to clubs, we get paid to come."
"I said, 'This is Ithaca, this is a different town. Things get handled a little differently here,'" Vipond told the Cornell Daily Sun.
However, TJ Chapman, who works for B.o.B, paints a different picture of the evening's unfortunate turn of events. He says that Vipond continuously offered the group bottles without even asking for them, which had him under the impression that the drinks were free.
"I gladly said 'yes, and thanks for all the hospitality' … [but] when we were leaving the club he ran outside with a bill. I asked, 'what's this?'" Chapman explained to the Cornell Sun in an email. "I asked how he was gonna charge us when he kept offering the liquor in the first place?"
While Vipond said he pressed B.o.B.'s entourage for payment, Chapman said the Level B employee did not seem upset. "[Vipond] apologized and said 'don't worry about it,'" Chapman said. "Then we left. That's the story."

Still, Weiss emphasized that, although Vipond erred in not asking for a credit card earlier, at no point did someone from the group say that they expected to drink for free. "None of us had any idea at the time that they did not expect to pay for anything," Weiss said. "We got no requests for anything in advance from B.O.B.s group, but a reserved table and to skip the line outside."

Throughout the night, B.o.B. and his group thanked the Level B staff for its service, Vipond said. "When they were thanking me I thought it was for great service, not for the fact that they weren't willing to pay for anything," Vipond said. "We took care of him as best we could; we went out of his way for everything."

B.o.B.'s unpaid tab was "financially, not a big deal for us," Weiss said. He added, however, that B.o.B.'s presence did not dramatically increase the bar's business on Saturday. "Just because B.o.B. showed up, it didn't mean we did any more sales — some people ran in, stood around B.o.B. and his entourage, and then they left, without buying drinks," Weiss said.

The Level B employees said they have had better experience with other celebrities who have visited the bar. "Celebrities that have visited the bar previously — Drake and members of the Gym Class Heroes, for example — have always paid," Weiss said. "None of us had any idea at the time that [B.o.B. and his group] did not expect to pay for anything."
Weiss says he's basically gonna charge all of this to the game, and won't be pursuing any legal action.
B.o.B., on the other hand, is a funny, funny character. How are you gonna show up unexpectedly at someone's nightclub … and then basically DEMAND free drinks? Where they do that at???
Be the first to receive breaking news alerts and more stories like this by subscribing to our mailing list.