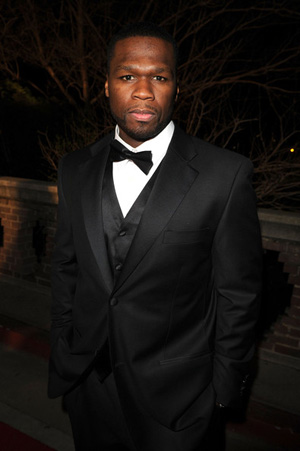 Curtis Jackson aka 50 Cent has had a lawsuit filed against him and his G-Unit imprint for an alleged oral sex attack that took place at his Conneticut mansion back in 2009.
According to reports, the suit was filed by former video music dancer Vasti Ortiz.
All Hip Hop explains:
Ortiz' lawsuit claims that she was assaulted by 50 Cent's associate Dwayne McKenzie, during a visit to the rapper's sprawling mansion, in August of 2009. According to the lawsuit, a woman named Ivy Medina invited Vasti Ortiz and her friends to the mansion around 1:30 AM.

Ortiz claims that Dwayne McKenzie was at the mansion acting as an employee of G-Unit. When McKenzie began to make "awkward sexual requests" for oral sex, the women attempted to leave.

Dwayne McKenzie then instructed a woman named Michelle Krzykowski to attack Ortiz, who was struck in the head with a hard object, as McKenzie held her down. Ortiz, who acted as a dancer for some music videos in the past, pepper sprayed Mckenzie and Krzykowski and managed to flee the scene.

Ortiz was rushed to a local hospital, where she needed nine staples to close a massive wound to her head.
This is not the first time that G-Unit associate Dwayne McKenzie has had a brush with the law and got 50's name involved.
Back in 2007 he was arrested and charged for firing a .40 glock at a man who attempted to steal his diamond necklace and in 2008, was arrested after striking a woman at 50's mansions with a belt during a dispute.
That Dwayne McKenzie guy sounds like bad news. Time for celebrities to stop hiring their crazy ass homeboys to "work" for them. SMDH…
Be the first to receive breaking news alerts and more stories like this by subscribing to our mailing list.