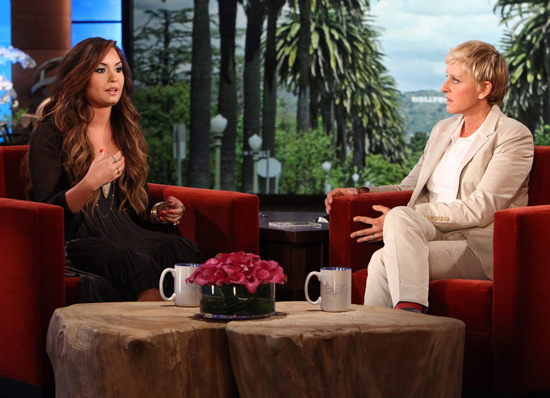 In an interview on the Ellen DeGeneres Show that aired today (Sep 20), Demi Lovato opened up about her recent stint in a treatment facility.
Lovato openly confessed that bullying had a harmful effect on her and she suffered from both bulimia and anorexia.
"I think that years of abuse in school," she explained about self harming, "so many things were said to me that just haunted me every day. I went from having all these friends to none and that's the effects that bullying can have on you. That's why I'm so adamant and outspoken about why it's so important to get the awareness out there that teen bullying can cause these issues. I struggled with cutting, anorexia, basically bulimia…"
Ellen went on to ask the "Camp Rock" star if drugs or alcohol played a part in her life.
"I would be lying to you if I said I never experimented or self-medicated with drugs and alcohol," Demi admitted.
But now, the 19-year-old admits that she wants to be an example to young girls and is now in focusing on her "health and recovery," and is in "such a good place now."
Watch Demi Lovato's interview with Ellen, as well as her "Skyscraper" performance below:
Be the first to receive breaking news alerts and more stories like this by subscribing to our mailing list.