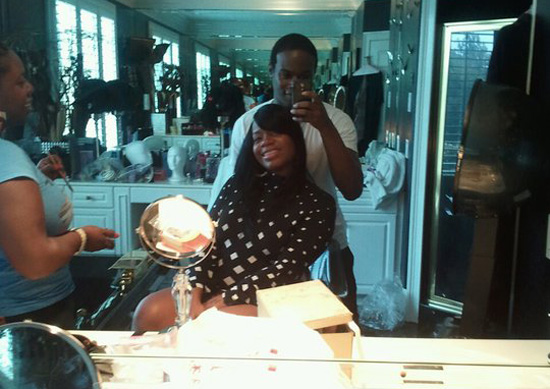 As we previously reported, Fantasia is pregnant by her (still married) boyfriend Antwaun Cook. And now we are hearing that R&B singer will be having a boy, as well as a baby shower — on a very "special" day — to celebrate.
According to Radar Online, Fantasia Barrino's baby shower to celebrate the birth of her new son will be held on October 1st, which ironically, is Antwaun's wedding anniversary with his estranged wife Paula!
"Fantasia is really taking every opportunity she can to stick it to Antwaun's ex," a source close to the situation told RadarOnline.com. "She's planning her baby shower for October 1, which is Antwaun's wedding anniversary with Paula. It's the low of lows."
The source continued, "By planning her baby shower for that day, both Antwaun and Fantasia are showing complete disregard for Paula. She's already been through enough with everything that's went down."
Although this will Fantasia and Antwaun's first child together, this is not the first time she's been pregnant by him. Just last year, Fantasia admitted during a separation hearing between Antwaun and Paula that she had previously had been pregnant by Antwaun, and had an abortion.
Fantasia, who is already the mother of a 9-year-old daughter named Zion, announced that she was expecting her second child with Antwaun Cook last month during a charity concert in Jacksonville, FL earlier this month.
"You are the first persons that I share this news with. And I share this with you because I can relate to you," she told the crowd. "And for a while I walked around figuring out what will they say and what will they think about me. But now I tell you I don't live my life for folk. This child that I carry, God has given me this child. And I don't have to hide it from none of y'all."
Fantasia is due to give birth at the end of December or in early January 2012.
Be the first to receive breaking news alerts and more stories like this by subscribing to our mailing list.