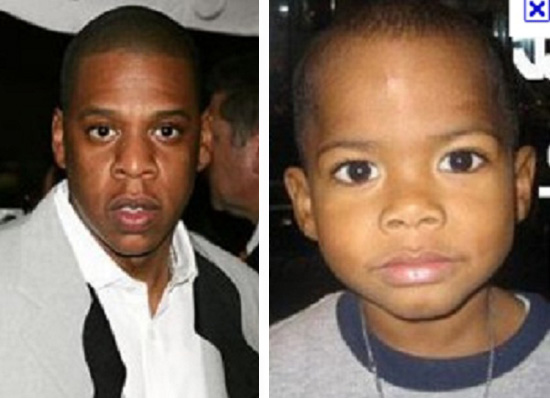 News flash! Jay-Z MAY … or MAY NOT … be the father of a 9-year-old boy from Trinidad.
When news broke that Beyonce was pregnant with her first child … we had a feeling people would bring up that nasty old rumor about Jay-Z already having a son with a video vixen from Trinidad.
And it looks like they have.
According to the rumor mill, the Hip-hop mogul fathered a "secret" son with a Trinidadian model named Shenelle nearly 10 years ago. And recently, a 67-year-old man named Jerald Andrews (Shanelle's ex-boyfriend Malik's father), reached out to a tabloid confirming that Jay-Z is the father of his "grandson," even going as far as to say they had DNA tests to prove it.
Andrews told Star Magazine exclusively that "at the time [he] was born, my son Malik thought he was his child, but they did DNA tests. It's been determined that [the child is] Jay-Z's baby."

A source told Star that while Beyonce was initially livid about the secret son, she's stood by her husband. The boy closely resembles the 99 Problems singer, who's reportedly paying Shenelle child support.

Malik, whose name was originally listed on the boy's birth certificate, came to find out about the child's real paternity, a source told Star.

"Malik threw [Shenelle] a baby shower and bought all this stuff to prepare for the arrival," the source said. "However, after the baby was born, friends and family told him he needed to get a DNA test. Everyone knew she was sleeping around and sleeping with Jay. There was a good chance it was his."

Andrews filled in Star on the rest of the details. "Maybe two weeks later, he called me and said, 'Daddy, I got some bad news. [He's] not my son,'" Andrews told Star. "I said, 'How do you know, Malik?' He said, 'He doesn't look anything like me!'"

After undergoing a DNA test that showed Jay-Z is the father, Malik kicked Shenelle out of his house, while Jay-Z made arrangements for mother and son to go back to Trinidad, where they now live comfortably on the rapper's dime.

"Shenelle told me that Jay-Z gave her $1 million to keep her mouth shut," Jerald tells Star. "My understanding is that he's paying her child support. Shenelle took the money and bought herself a really nice house in Trinidad that the whole family lives in now."

Jerald told Star that Shenelle has told him her current relationship with the rapper "is amicable."

"She says he's a good father and he has a lot of interest in [the boy]," he told Star. "It was a big old mess at one time, but I think once they resolved the issue of fatherhood, of paternity, I think things started to level off."

[Radar]
Now, after stirring up all of this drama, Mr. Andrews is back peddling on his story, telling the New York Daily News: "I know Shenelle, but I've never spoken to her or my son about this. They're very private people. The stuff about the DNA test was on the Internet. It's all from an old article on the Internet. I don't know if it's true."
Rumors of Jay-Z having a love child first surfaced back in 2007, and his camp denied the rumors at the time in a statement to AllHipHop.com, which read, "There is no truth to these ridiculous rumors. People should be ashamed of using this kind of story and exploiting a child for publicity and ratings."
Do you believe the rumors?
Be the first to receive breaking news alerts and more stories like this by subscribing to our mailing list.