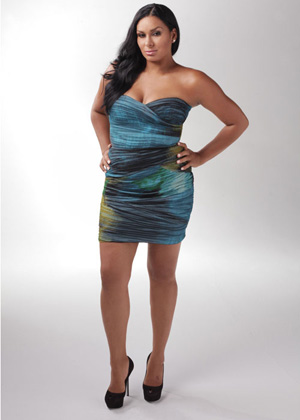 After years and years of non-stop drama (court cases, custody battles, etc.) Laura Govan and NBA star Gilbert Arenas are back together, the "Basketball Wives L.A." stars confirmed in a new interview with Essence.com.
You may also know Laura as the girl who got into a fight with fellow BBall Wives star Malaysia Pargo on the very first episode of their new VH1 show. But now, she's ready to tell her side of the story, in regards to the fight, her on-and-off relationship with Gilbert Arenas, how he tried to stop her from being on the show and more.
Check out her interview with Essence below!
ESSENCE.com: We don't know much about you except what we read on blogs and see on the show. Who is Laura Govan?

LAURA GOVAN: One thing is that I'm a dedicated mom of four. I've played basketball all my life. I coached on a college level and I attempted to play overseas, but I was injured. It was time for basketball to end for me. I worked for the Golden State Warriors, which is where I met Gilbert [Arenas], my fiancé. Then I got my masters in Sports Psychology. I was in a masters PhD program but I started having children so I stopped. I've had four kids in five years. My youngest is three months old.

ESSENCE: You refer to Gilbert as your fiancé. You two are back together?

GOVAN: Yes, we are, and we plan to get married soon. When and where, I don't know yet. I feel like we're already married though, ten years, four kids later. People say he's a mess, and I'm a mess. You know what, we're each other's messes. Everybody has breakup and make-up moments. It just so happens that ours is out in the public. You learn to grow. At this point in our lives Gilbert and I have been there, done that; the drama, the chaos. We're older now, and we're more mature. Now we're better parents, and we're taking the steps to make things better. Regardless of our past, we want our kids to see a good future.

Gilbert had a lawsuit trying to stop you from being on the show. Why do you think he didn't want you on it and why was it important for you to be on it?

A lot of people don't know that Gilbert is really shy. He didn't want things about our family to be out there. But at the end of the day, things about our family are already out there so I thought let's take control of the things we can. It was also important for me to do the show because, one, I wanted to do something on my own. I'm always in his shadow. Had it been to get a job at Target, I would have taken it, but since I was offered this opportunity, I took it.

You got a lot of flack for fighting Malaysia on the first episode of "Basketball Wives: L.A." Looking back, what goes though your mind?

I think it's horrible. We look uneducated… it was just a really bad look. I feel bad because when you get to know her she's a good person. On her side, it was a defense situation, and on my end, I was just going through a lot and she happened to push the wrong buttons that day. I feel like had it not been her that provoked me, it might have been someone else. As soon as the altercation ended, there was a little boy there, and I saw my son in him. I just started balling. That's when I thought, 'you know what, I need to go see a counselor.' I need to start taking steps to take care of myself. For the past five years I've had baby after baby. People ask me, 'do you have postpartum depression?' I don't even know what that is. Then the chaos with Gilbert… it's just been a very chaotic time.

What do you think of the criticism of the "Basketball Wives" franchise?

I think it's right, to a certain extent. The producers do what they need to for TV. It's really sad that people want to see us fighting, pulling each other's hair out and arguing. But you have to pick and take. There's a lot of good things about us as well, some of us are businesswomen, authors, designers. My sister Gloria is doing a bunch of things. I have a clothing line for after pregnancy. We all have things going outside of what people see for entertainment. I think it's fair, I think its TV, its entertainment. Don't go to church talking about it, don't go watching it for morals, don't go to church praying for us. [laughs] No, do pray for us. Don't take it there, it's just entertainment.

[Essence]
Catch Laura Govan and the rest of the cast of "Basketball Wives L.A." Monday nights on VH1!
Be the first to receive breaking news alerts and more stories like this by subscribing to our mailing list.