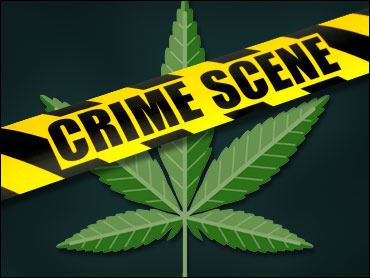 It doesn't get much worse than this….
A 27 year-old man is now facing gun and drug charges after cops discovered a marijuana-growing operation in his home after a woman wrecked her car into his home and killed his roommate. (And just in case you were wondering, Yes. All of that happened in one incident!)
A woman backing her car out of her driveway Saturday afternoon reversed into a house across the street, killing a man inside.

Just after 12:00 p.m. 28-year-old Zachary Isenberg of the 400 block of Connor Street, was standing by his couch when a 1995 Mercury Marquis came crashing through his home, pinning him underneath the vehicle, according to Will County Deputy Chief Ken Kaupas.

Kaupas said that according to the roommate of the victim, 27-year-old Thomas Micucci, the two men were playing video games when they heard a noise outside.  Isenberg stood up to see what it was when the car came through the house.

The woman driving the car, Patricia Dolton, was reversing out of her driveway when the accelerator became stuck, causing her to crash through a telephone pole, splitting it in half and then through the home, according to Kaupas

Isenberg was transported to an area hospital where he was later pronounced dead, Kaupas said.

As officers began to search Isenberg and Micucci's home for more victims, they came across a locked door.  Kaupas said they discovered a small pot-growing operation in a bathroom behind the door.

Micucci was at the hospital at the time the officers discovered the 13 marijuana plants. During that time officers also discovered a half ounce of cocaine and $1,500 – $2,000 cash in Isenberg's bedroom and a firearm in Micucci's bedroom, according to Kaupas.

Micucci, who is a felon, was later arrested and charged with illegal possession of a firearm by a felon, a class 3 felony and production of marijuana, a class 4 felony.
We know it wasn't her fault….but you really have to hate the lady who wrecked her car on this one. She really f**ked things all the way up! SMH
Be the first to receive breaking news alerts and more stories like this by subscribing to our mailing list.