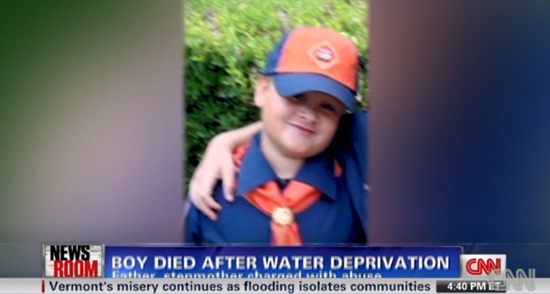 A 10-year-old boy from Dallas died of dehydration after his parents deprived him of water for 5 days.
As punishment for wetting his bed, Jonathan James' cruel parents made him stand on a marked "X" in the non-air conditioned kitchen of their Dallas home while the 100-degree Texas heat beat down on his back.
Jonathan was also denied water, and after 5 days of being deprived of one of the human body's most prized possessions, he started showing signs of dehydration and was taken to the hospital on July 25th, but unfortunately, could not be revived.
"They made him eat a peanut butter and jelly sandwich. The peanut butter got stuck in his throat," Jonathan's twin brother, Joseph, told CNN. "They still wouldn't let him have water … I couldn't do nothing about it. Because if I said something, I would end up getting in trouble too."
Jonathan's father and stepmother have since been charged with serious bodily injury to a child.
And in our opinion, the courts shouldn't even be wasting time on a trial. They just need to lock these two pretend parents in a hot closet with no food and water for however long it takes them to slowly die.
What do you think?
Be the first to receive breaking news alerts and more stories like this by subscribing to our mailing list.