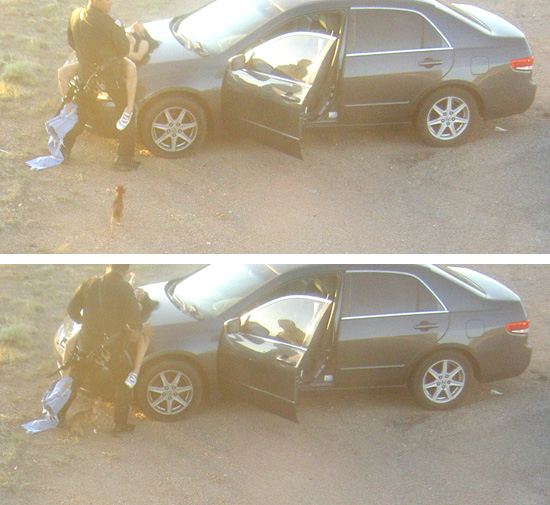 New Mexico State Police have been investigating a situation involving a State Police officer who was caught having sex with an unidentified female on the hood of a car in broad daylight … while he was in FULL UNIFORM!
According to officials, the officer in the photos hasn't been working on patrol in weeks. In fact, lawyers in the Santa Fe area claim that the officer hasn't shown up to several cases in which he had been the arresting officer, causing those cases to get dismissed.
The surveillance camera that caught the man and woman "getting it in" was set up to catch vandals at a remote ranch owned by Santa Fe County.
Though criminal charges will not be filed against the officer because the incident occurred "in the middle of nowhere," the Santa Fe New Mexican reports that he has been placed on administrative leave and is currently facing possible disciplinary action.
New Mexico State Police released the following statement earlier this week:
"The internal affairs investigation is complete, now we are awaiting a final decision on any disciplinary action that could be taken."
Believe it or not, the officer is the same arresting officer in a high profile local rape case. He arrested accused rapist Daniel Martinez, but he escaped from his custody when the officer wasn't looking (Maybe a pretty girl walked by and he got distracted?)
The officer, identified by the New Mexican as Bert Lopez, had also been previously awarded officer year in the past, and served on the security detail of former New Mexico Governor Bill Richardson.
Now he's letting rapists get away and having sex with random women on the hood of random cars in random places in New Mexico. A perfect candidate for officer of the year, right?
Be the first to receive breaking news alerts and more stories like this by subscribing to our mailing list.