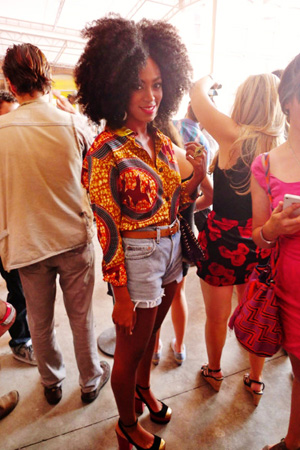 What was meant to be a fun time at the club, turned into somewhat of a nightmare for singer turned part-time DJ Solange Knowles.
According to reports … and Solange … Miami police pulled a weapon on her outside Cameo Club in Miami Beach this past Saturday night (Aug 27) in the middle of an altercation between the two parties. And apparently, it was all over a banana balloon.
Knowles says she did absolutely nothing wrong, and immediately took to Twitter to air out her grievances. She tweeted:
"I have literally had my last leg with discriminating police! Miami police department will be notified. A police officer just pulled a weapon on me…. I have done NOTHING illegal, against the law, or anything of the sort. I am simply tired of police using arrogance, ego and authority as an offense.

"Been on the phone for the last 20 minutes reporting this incident. Yes, I have the officers name. Yes, I have the location. Scare tactics don't WORK."
But an eyewitness who claims to have been at the scene at the time of the incident said otherwise.
"She came with 3 people in shorts, was wasted, and wouldn't put down a 3 foot balloon … then took it upon herself to accuse the Cuban cop across the street, [Miami Beach Police Department] as a bunch of racists – how do you think that went over?"
Days later, Solange still maintains her side of the story, telling E! News, "Never once during the incident did I even raise my voice. I feel very strongly about standing up for myself when something is wrong, and am very disappointed in the way that the Miami [Beach] Police Department has handled this case."
Knowles' reps also spoke to the website via a statement and further explained her side of the story.
Given the "sequence of false statements" made by police in the matter, "it is necessary to shed some clarity and tell her side of the story," Knowles' rep tells E! News.

She says that Knowles and two friends went to a club, where she somehow obtained a large balloon that they planned to give to a pal's kid the next day.

They cabbed it to another night spot, where the bouncer informed them that they couldn't take the balloon inside.

"They decided to go across the street to deflate the balloon, where they encountered two police officers who had casual, light-hearted conversation with them," Knowles' rep states. "One officer pulled out a switchblade and threatened to pop the balloon. They felt it was inappropriate, but the turning point happened when he then took out the switchblade a second time with the blade open and said to them, 'I don't find the humor in this, anymore.' The blade was less than a couple feet away from Solange and her friends."

The officer proceeded to "forcefully" ask them to move, gesturing that they cross the street though there was oncoming traffic, the rep continues.

"Solange then asked the officer what was it that they did wrong, and he forcefully responded again to move," she told E! News. "When a taxi pulled up, they got in and headed home. Solange made a series of calls to report the incident and was told to be prepared to be arrested when she came in to report the incident if her story was false. Solange simply wanted to report that the officer pulled out a weapon, when she had done nothing illegal, disruptive or belligerent."

"Solange is actively filing a report and has not yet decided on further legal action," her rep concluded.

The MBPD previously said that a 5-foot-banana-toting Knowles was the one who became unruly with two off-duty police officers, who then guided her across the street to calm her down. They say that she had been loudly complaining that she was turned away from the nightclub for racial reasons.

"The whole entire incident was about the fact that she was not allowed in a club," Officer Juan Sanchez told E! News. "And when she became abusive, she was pulled to the side. There was no mention of a gun. Considering it might be an internal investigation, I can't tell you much other than that."
All of this … over a balloon?
Be the first to receive breaking news alerts and more stories like this by subscribing to our mailing list.