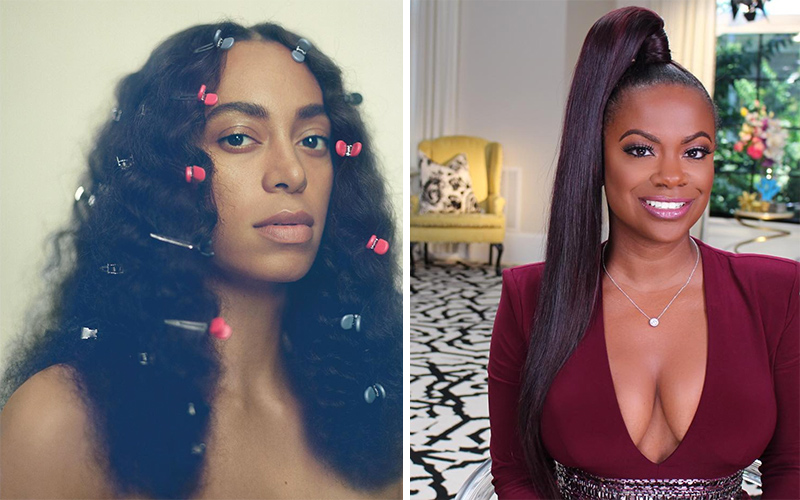 Solange Knowles is known for being the hippie kid sister to Beyoncé and it's not a reputation that she has earned undeservedly. Whether it's through her style, her fashion or her music, Solange makes it clear that she marches to a slightly different drum than the rest of us.
She's also established herself as an unapologetic advocate of the black community and her album, A Seat at the Table, essentially serves as a testimony to the black (and especially the black woman) experience.
But just because Solange dabbles in the black intellectual circles doesn't mean she's unlike us. And that was made clear when Solange recently shouted out her love and adoration to Bravo's wildly popular and long-running reality TV series, the Real Housewives of Atlanta.
https://twitter.com/solangeknowles/status/804695063959838720
Kandi Buruss, who's a current cast member on the show, caught wind of the compliment from Solo and thanked her publicly:
But apparently, some people out there felt like Solange was too "woke" to be a fan of something as trashy and ratchet as RHOA.
Little did they know, Solange don't play that. She sent a memo to commenters who had a problem with her stanning for RHOA:
People love to act like because you're well-read, have some political opinions and know how to write grammatically correct sentences that you can't enjoy trashy TV like the rest of us.
You can twerk to Lil' Boosie and do spoken word performances too. Liking one thing don't mean you can't like the other. Y'all better come on now!
Be the first to receive breaking news alerts and more stories like this by subscribing to our mailing list.